Network Surveillance Software analyzes GSM Mobile calls.
Press Release Summary: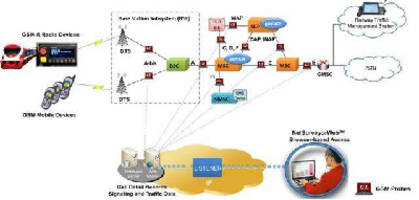 Utilizing intrusive and non-intrusive PC Probes at strategic locations in network, NetSurveyorWeb™ identifies, segregates, and analyzes different types of GSM Mobile calls over TDM and IP transport networks. Probes transmit and collect voice, data, protocol, statistics, and performance information and relay information to NMS. Web-based network monitoring and diagnostic system is suitable for billing verification, remote protocol analysis, and traffic engineering.
---
Original Press Release:

GL Announces GSM Network Surveillance Software



Gaithersburg, Maryland, USA – GL Communications Inc., announced today its latest GSM Network Surveillance software –  for identifying, segregating, and analyzing different types of GSM Mobile calls over TDM and IP transport networks.



Centralized-Web-Based-GSM-Monitoring-System



Speaking to the press, Mr. Jagdish Vadalia, a Senior Manager for product development of the company said, " GL provides a variety of solutions for network wide monitoring and surveillance. The solution consist of:  Intrusive and non-intrusive 'PC Probes' for TDM, VoIP, and Wireless Networks.  Probes deployed at strategic locations in a network transmit and collect voice, data, protocol, statistics, and performance information, and relay this information to a central / distributed Network Management System (NMS) – called NetSurveyorWeb™.  The NMS  is WEB based system and consisting a database, and web applications for controlling, collecting, and analyzing the information provided by the various probes."



He added,  "GL's network monitoring and diagnostic system can be used for billing verification, remote protocol analysis, and traffic engineering.   It can also provide key performance indicators, failure analysis, and call trace capability.  A service provider or an equipment manufacturer must have the means to perform the aforementioned surveillance tasks cost effectively, remotely, automatically, and non-intrusively. Fortunately, the network backbone contains a wealth of information that can be monitored and collected to support these activities."



Mr.Vadalia explained, "The GSM probes and TRAU probes over TDM networks captures GSM signalling as well as TRAU traffic data for calls being monitored, and transfers to Central Database System.  The GSM IP probe – PacketScan™  captures GSM signalling as well as RTP traffic data over IP networks and transfers to Central Database System. The captured data will be made available to the customer in a sequential manner by NetSurveyorWeb™ GSM system. The features in NetSurveyorWeb™ GSM slightly varies for TDM and IP networks.



User can customize the collected data and view the same for different purposes like troubleshooting, finding calls of interest, monitoring traffic, quality of service and more. And typical applications include Fraud Detection and Location, Remote Protocol Analysis and Troubleshooting, Real-time Signalling Monitor, Traffic Optimization Engineering, and Statistics.



User can determine actual call signalling routes to verify network functionality under all situations including congestion and loss of links.  Also, the application provides the capability of alarm monitoring, non-intrusive testing of the T1 E1 alarms, and statistics."



Important Features



Call Detail Records (CDR)

The Call Detail Records view in NetSurveyorWeb™ GSM system displays GSM call specific information such as Probe Name, Call Status, Calling Number, Called Number, Handover Information, SM Data, Traffic Related Information and so on. 



GSM Call Types

The NetSurveyorWeb™ GSM system also identifies, segregates, and displays different GSM call types like Mobile Originated Call, Mobile Terminated Call, Mobile Originated SMS, Mobile Terminated SMS, Location Update, Incoming Handover, and Supplementary Services etc.

Mapping



The Mapping feature in NetSurveyorWeb™ GSM co-relates individually captured GSM signalling in GSM probes to proper voice channels captured in TRAU probes at the Abis Interface for each Mobile Call i.e GSM calls like Mobile Originating Call, Mobile Terminating Call and Handovers captured in GSM probes which includes signalling information. 



Short Message Service (SMS)

The NetSurveyorWeb™ GSM system supports collection, decoding and storage of SMS data in plain textual formal in mass interception mode.



Multi language Decoding of SMS - The system also has the provision to view SMS in all languages. 



Voice Playback

The TRAU traffic captured on GSM Abis interface, is stored, and decoded into "glw" format.    The captured signalling and TRAU traffic files are correlated, mapped, and combined voice call with CDR is to be made available to the net surveyor clients once the call is completed in the network. 



Multiple Filtering Options

User can choose any field from the Call Detail Records, apply logical conditions between fields, and between multiple filters to drill down to the specific "Calls of Interest" from hundreds to thousands of captured calls.  Eg.  Define the called/calling parties meeting certain QoS parameters.



Extensive Reports

The user has been provided with various report options such as SMS counters with respect to different languages, Mapped Vs Unmapped calls,  Location Update Success Rate, Total CDRs , Total SMS, and Call Type Counters on various links etc



About GL Communications Inc.,

Founded in 1986, GL Communications Inc. is a leading supplier of test, monitoring, and analysis equipment for TDM, Wireless, IP, and VoIP networks. Unlike conventional test equipment, GL's test platforms provide visualization, capture, storage, and convenient features like portability, remote operation, and scripting.



Our test solutions cover wide array of networks – 4G (LTE), 3G, 2G, IP, Ethernet, T1, T3, E1, E3, OC-3/STM-1, OC-12/STM-4, and analog.  GL's tools are widely used by the telecommunication industry for: conformance testing, automated stress/load testing, and performance assessment, and analysis.  For more information about GL's complete line of products,



Contact:

Shelley Sharma

Phone: 301-670-4784

E-mail: info@gl.com

More from Optics & Photonics