Network Servers are designed for small businesses.
Press Release Summary: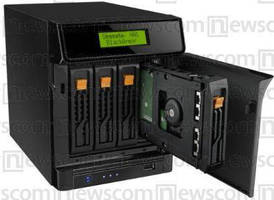 With support for Windows® XP, Windows® Vista and Mac OS® X 10.4.11 operating systems, Seagate BlackArmor NAS 440 and BlackArmor NAS 420 servers provide organizations with centralized, secure way to manage business-critical information. BlackArmor NAS 420 comes with 2 drives in 4 drive chassis, where as BlackArmor NAS 440 comes fully populated with four drives. Capacities for both models vary from 2 Tb in BlackArmor NAS 420, to maximum capacity of 8 Tb in BlackArmor NAS 440.
---
Original Press Release:

Seagate Introduces BlackArmor Family of Storage Solutions for Small Business



New Products include BlackArmor NAS 440 and BlackArmor NAS 420 storage servers with up to 8TB of capacity

SCOTTS VALLEY, Calif., March 24 -- Demonstrating its ongoing commitment to provide small businesses with solutions that meet both current and future storage needs, Seagate (NASDAQ:STX), the world's leading provider of storage solutions, today announced a complete portfolio of products designed to protect data for sustained business continuity and optimum uptime. First introduced in 2008 as a portable Full Disk Encryption drive, the new Seagate® BlackArmor® product line is the family name for a suite of network-attached, workstation and portable storage solutions designed to meet the digital asset management needs of small business professionals.

Designed as a simple, easy-to-install and easy-to-manage solution for businesses with little or no IT support, BlackArmor storage solutions are perfect for small office environments with up to 50 employees as well as self-employed professionals. Additionally, the BlackArmor line of solutions provides software management tools that are compatible across the family, providing a consistent user experience and future growth path with minimal training or the need for additional support.

"With increasing economic pressures, small businesses and home offices may become even more likely to have limited or no on-site IT support and many will be reassessing their IT environments," said Ryan Brock, AMI Partners' vice president of Channels. "Cost-effective, easy-to-use solutions that offer data security and reliability along with a strategic growth path and single-vendor support will be very attractive to this customer base."

The first two products to be announced for this new family of small business storage solutions are the Seagate BlackArmor NAS 440 and BlackArmor NAS 420 servers, which are designed to provide organizations with a centralized, secure way to manage their business-critical information. Each is a four-bay NAS device, populated with Seagate disk drives. In the case of the BlackArmor NAS 420, it comes with two drives in a four drive chassis. The BlackArmor NAS 440 comes fully populated with four drives. Capacities vary from 2TB in the BlackArmor NAS 420, to a maximum capacity of 8TB in the BlackArmor NAS 440.

Unparalleled Security, Accessibility and Peace of Mind

For companies of any size, keeping business data accessible and secure is vital to maintaining the confidence of their customers, partners and employees. Seagate BlackArmor NAS 440 and Seagate BlackArmor NAS 420 network storage servers help companies ensure they operate efficiently, while keeping their business data secure, available, accessible and protected. Seagate's years of experience developing robust, secure storage solutions offers customers the right blend of features to meet immediate and future business needs:

o Ease of Use: Self-contained, out-of-the box solutions with on-board
LCD Screen, displaying settings and status information - including
event alerts - and intuitive management utility for easy configuration
and data access;
o Protection: Delivers continuous and automatic backup of
business-critical data on up to 50 networked computers(1) with
full-system backup and RAID options to help provide data protection
and redundancy;
o Security: Individual file to entire volume encryption with intuitive
software management for access control at file and folder level with
password protection and encryption; included bare metal restore and
recovery CD to protect against hardware failure.
o Flexibility: Offers the ability to scale from two to four drive
configuration with two, four, six and eight terabytes of storage so
companies can pick the right solution to meet their business
requirements;
o Accessibility: When away from the office, customers can access and
share business content securely from the road with an Internet browser
without any extra installs or software. Companies can invite
colleagues and clients to access select files and folders without
needing an FTP site, while keeping their firewall intact and
maintaining the security of their network;
o Continuity: Designed with hot swappable, user-serviceable drives and
RAID options to enhance performance and scalability, the BlackArmor
440 and 420 network storage servers help ensure business continuity.
The four USB ports can be can be used to attach external USB drives
for offsite rotation in order to guard against the consequences of
natural disasters; BlackArmor network storage servers also ship with
an external power supply and user-serviceable fan to cover foreseeable
failure points and thus minimize downtime.
o Investment Protection: Part of an all-inclusive small business
storage portfolio, which offers interoperability amongst all products
and strategic storage growth path. Each customer's purchase has a
three-year limited warranty and the peace of mind of knowing their
business is backed by a storage industry leader.

Technical Specifications and Pricing

Seagate BlackArmor NAS 440 and BlackArmor NAS 420 network servers support Windows® XP, Windows® Vista and Mac OS® X 10.4.11 or later. Both network servers can be purchased through channel partners and select retailers at the following manufacturers' suggested retail prices (MSRP):

Seagate BlackArmor NAS 420 network servers - four-bay, two drive configuration $799.99 USD for 2TB
Seagate BlackArmor NAS 440 network servers - four-bay, four drive configuration $1,199.99 USD for 4TB, $1,699.99 USD for 6TB and $1,999.99 USD for 8TB scheduled available for May.

For Additional Product Information and Related Multimedia Content:

http://seagate.com/http://media.seagate.com/seagate-blackarmor-media-kithttp://seagate.mediaseed.tv/

More detailed information about the Seagate BlackArmor family of solutions can be found at http://www.seagate.com/blackarmor.

About Seagate

Seagate is the worldwide leader in the design, manufacture and marketing of hard disk drives and storage solutions, providing products for a wide-range of applications, including Enterprise, Desktop, Mobile Computing, and Consumer Solutions. Seagate's business model leverages technology leadership and world-class manufacturing to deliver industry-leading innovation and quality to its global customers, with the goal of being the time-to-market leader in all markets in which it participates. The company is committed to providing award-winning products, customer support and reliability to meet the world's growing demand for information storage. Seagate can be found around the globe and at http://www.seagate.com/

Seagate, Seagate Technology, the Wave logo, FreeAgent and BlackArmor are trademarks or registered trademarks of Seagate Technology LLC or its affiliates in the United States and/or other countries. All other trademarks or registered trademarks are the property of their respective owners. When referring to hard drive capacity, one gigabyte, or GB, equals one billion bytes and one terabyte, or TB, equals one trillion bytes. Your computer's operating player may use a different standard of measurement and report a lower capacity. In addition, some of the listed capacity is used for formatting and other functions, and thus will not be available for data storage. Seagate reserves the right to change, without notice, product offerings or specifications.

(1) Product ships with licenses for up to ten computers, additional licenses can be purchased through Seagate.com.

Source: Seagate Technology

CONTACT:

Siobhan Lyons,

+1-408-328-2247,

siobhan.m.lyons@seagate.com,

or

Nathan Papadopulos,

+1-408-328-2167,

nathan.papadopulos@seagate.com, both of Seagate

Web Site: http://www.seagate.com/

More from Chemicals & Gases