Network Interface Module is certified to EtherNet/IP CT11.
Press Release Summary: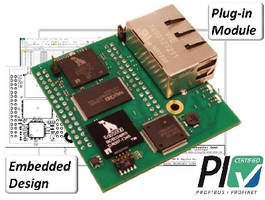 Based on fido5000 REM Switch chip, RapID Platform – EtherNet/IP Network Interface has been certified to EtherNet/IP CT11 for beacon-based DLR devices. Product is available as module or embedded design containing everything needed to participate in EtherNet/IP network with star, line, or ring topology. For rings, module supports beacon intervals down to 100 µs and ring recovery times of less than 3 ms for 50-node network. Cycle times down to 2 ms are immune to effects of network traffic.
---
Original Press Release:

Innovasic Certifies the RapID Platform with the fido5000 REM Switch for EtherNet/IP and Beacon-based Device Level Rings



Albuquerque, NM, – Innovasic is pleased to announce the RapID Platform with the new fido5000 REM Switch chip has been certified to EtherNet/IP CT11 for beacon-based DLR devices.  Additional net load testing has been performed by Innovasic to ensure cycle times down to 2ms are immune to the effects of network traffic.  Certifications for EtherCAT, SERCOS III, and POWERLINK will be announced over the next few months.



The RapID Platform – EtherNet/IP Network Interface with DLR is delivered as a module or embedded design containing everything needed to participate in an EtherNet/IP network with a star, line, or ring topology.  For rings, the product supports beacon intervals down to 100 µs and and ring recovery times of less than 3 ms for a 50-node network.  The product also supports QuickConnect, Address Conflict Detection (ACD), configuration assemblies, and large forward open.  All Standard Objects are supported and the File Object can be used to embed an EDS file.  A web server is included and dynamic web pages can be customized by the user.



"With the addition of EtherNet/IP and beacon-based DLR to the fido5000-based RapID Platform, we are one step closer to realizing the vision of having one platform to support all time-critical Industrial Ethernet protocols," says Tom Weingartner, Innovasic's VP of Marketing.



The RapID Platform – EtherNet/IP Network Interface with DLR module and embedded design are available now.  Please visit us at www.innovasic.com to learn more.



About Innovasic, Inc.

Innovasic provides extended life semiconductor solutions for customers who have products with long life-cycles.  The company's processors, communication controllers and mixed signal devices are key components in industrial automation equipment, transportation systems, instrumentation, and medical devices.  Innovasic's newest solutions enable customers to quickly integrate real-time Industrial Ethernet into their products at the highest performance and the lowest cost.  Extending the life of its customers' products has established Innovasic as a trusted partner and an approved supplier to leading electronic system manufacturers worldwide.



CONTACT:

Innovasic, Inc.

Dawnelle Shehan

505.883.5263 x189

dshehan@innovasic.com

More from Fasteners & Hardware