Network-Compatible HPLC suits low-level LC/LCMS analysis.
Press Release Summary: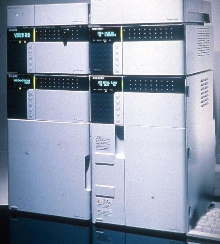 Featuring centralized Web-based instrument control, LC-20A Prominence series includes micro-range solvent delivery with 3 nL/step resolution and dual micro-plunger design. System offers full automation of analysis work, and optical processing provides linearity of 2.5 AU for UV detectors and 2.0 AU for Photo Diode Array. All detectors come with temperature-controlled flow cell and allow for analysis of target compound and minor impurities in one run.
---
Original Press Release:
Network-Compatible HPLC Features Enhanced Specifications and Virtually No Carryover for Confident Low-Level LC/LCMS Determinations

Shimadzu Scientific Instruments has introduced the LC-20A Prominence series of HPLC components. Offering enhanced specifications for practical, real-world HPLC, Prominence provides the flexibility necessary for any application. For low-level LC/LCMS analysis, the system includes superior micro-range solvent delivery performance with 3 nL/step resolution and dual micro-plunger design. Special needle treatment, redesigned needle seal and low-adsorption valve materials combine to eliminate cross-contamination, even with difficult basic and hydrophobic compounds. With the world's fastest injection cycle (10s for a 10 µL injection), Prominence is the best front end possible for confident, low-level LC/LCMS determinations. Dual-solvent rinsing is available, and an optional temperature-controlled rack changer allows continuous processing of up to 12 deep-well plates for high-throughput laboratories.

As a network-ready HPLC, Prominence features the world's first Web-based instrument control utilizing the CBM-20A System Controller and Microsoft® Internet Explorer. It can connect directly to the lab's LAN and an easy-to-use Web interface enables users to set up, control, and monitor their HPLC remotely. This centralized management ensures efficiency, offers added security with multi-level user access options, provides a flexible analytical environment, and helps to conserve valuable bench space. Prominence offers full automation of analysis work from startup to equilibration and analysis to shutdown. When used with CLASS-VP® software, Prominence provides the tools to be fully 21 CFR Part 11 compliant.

Prominence's UV absorbance detectors and Photo Diode Array (PDA) detector now exhibit the lowest published noise and drift specifications in the world. Newly developed optical processing provides linearity (ASTM Standard) of 2.5AU for the UV detectors and 2.0 AU for the PDA. Noise reduction technologies combine with this expanded linearity to provide a wide dynamic range to allow for the analysis of your target compound and minor impurities in a single run. All detectors come standard with a temperature-controlled flow cell that eliminates inconsistencies caused by changes in absorbance due to shifts in room temperature.

Shimadzu's Prominence HPLC offer users flexible system configurations to meet any application need. Full compatibility with the popular VP Series ensures that current users can expand their system if necessary. The modular nature of the Prominence Series enables configuration for anything from a basic academic teaching lab to a multi-stream high-throughput analysis or multidimensional system.

For more information, call 800-477-1227, Fax: 410-381-1222, visit our web site at www.ssi.shimadzu.com, or write Shimadzu Scientific Instruments, Inc., 7102 Riverwood Drive, Columbia, MD 21046-2502.
Related