Network Analyzers (Electrical)
Network Analyzer helps optimize DOCSIS 3.0 services.
Press Release Summary: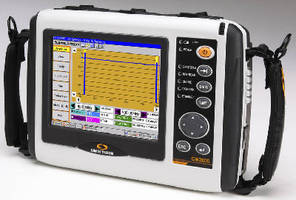 Combining sweep, triple play service, and cable modem analysis, CM2800 lets field technicians monitor and diagnose issues/impairments on upstream and downstream channels to ensure no critical voice, data, or video service disruptions occur. True non-interfering downstream sweep ensures network is operating at required levels and frequency responses, while 5-200 MHz upstream sweep lets one person test full frequency span of return lasers with one instrument.
---
Original Press Release:

Sunrise Telecom®'s new CM2800 Optimizes DOCSIS 3.0 Services



CM2800 delivers the fastest, non-interfering and highest resolution sweep, combined with triple-play and network service analysis

SAN JOSE, Calif., October 13, 2009 - Sunrise Telecom® Incorporated (Pink Sheets: SRTI), a leader in test and measurement solutions for telecom, wireless and cable networks, today introduced the CM2800, the first high-resolution, upstream and downstream sweep system designed to analyze triple-play services and optimize the use of the crowded upstream spectrum for emerging DOCSIS 3.0 services. Using the CM2800, technicians can identify even small impairments in network performance, speeding plant maintenance, increasing quality of service and reducing outages. The CM2800, already in high demand, will debut at the SCTE Cable-Tec Expo Oct. 28th at the Colorado Convention Center, booth #11081, in Denver, Colorado.

"One of the most difficult aspects of DOCSIS 3.0 is upstream channel bonding. Bandwidth comes at a premium, so line impairments must be kept to a minimum," said Jeff Heynen, Directing Analyst, Broadband and Video, Infonetics Research. "The CM2800 allows field technicians to quickly monitor and diagnose issues on both upstream and downstream channels, ensuring no critical voice, data, or video service disruptions occur. This makes certain that service level agreements stay enforced and subscribers are satisfied with the quality of service delivered."

Setting a new standard in sweep systems, the CM2800 enables technicians to identify and troubleshoot even the most difficult impairments before customers experience service degradation. The high resolution, true non-interfering downstream sweep features ensure that the network is operating at the levels and frequency responses required to deliver reliable, distortion-free services. Fast 5 to 200 MHz upstream sweep, compatible with the CaLan upstream sweep function, allows one person to test the full frequency span of return lasers with a single instrument, significantly lowering CAPEX for existing CaLan customers.

"The demand for residential and small business triple-play services is putting enormous pressure on MSOs to maximize their upstream capacity for DOCSIS 3.0 services," said Bahaa Moukadam, Sunrise Telecom's chief executive officer. "The CM2800 enables MSOs to optimize the upstream spectrum, deliver reliable service and ensure enhanced customer experience."

The CM2800 interfaces with the Sunrise Telecom realGATE Broadband Testing Management Tool (www.sunrisetelecom.com/realGATE/pr), a comprehensive web-based management system for managing assets, test results and the work force. Accessible anywhere through a standard browser, realGATE centralizes current and historical information allowing users to isolate problems quickly and to detect variations in the system.

The large, color touch screen on the CM2800 provides an exceptional graphics display that simplifies interpretation and analysis of data. This comprehensive instrument, combining sweep, triple play service and cable modem analysis, together with its automated measurements and Windows CE platform, makes the CM2800 ideal for the most advanced users as well as for technicians who are new to the technology.

Both the CM2800 and the CM2800E, the European model, are immediately available from Sunrise Telecom. The CM2800 supports DOCSIS and Annex B & C. The CM2800E supports DOCSIS/EuroDOCSIS and Annex A, B & C. For pricing information, contact Sunrise Telecom at 800-701-5208 or find local sales contact at the company's web site: www.sunrisetelecom.com/sales/reps.shtml.

About Sunrise Telecom Incorporated
Sunrise Telecom is a leader in test and measurement solutions for telecom, cable and wireless networks. The company's robust portfolio of feature-rich, easy-to-use products enables service providers to deliver premium voice, video, data and next-generation digital multimedia services quickly, reliably, and cost-effectively. Based in San Jose, California, Sunrise Telecom distributes its products through a direct sales force and a global network of sales representatives and distributors. For more information, visit www.sunrisetelecom.com.

Media Contact:
Phyllis Grabot, Zeesman Communications, Inc.
805.341.7269, phyllis@zeesman.com

Yumi Kato, Sunrise Telecom, Inc.
408.360.1916, ykato@sunrisetelecom.com

SUNRISE TELECOM, the "S" logo, and other trademarks are trademarks of Sunrise Telecom Incorporated and may not be used without permission. Internet Explorer, Windows and Windows CE are registered trademarks of Microsoft Corporation in the United States and other countries. Copyright © 2009.

More from Architectural & Civil Engineering Products