NetTalon Virtual Command Technology Receives UL Approval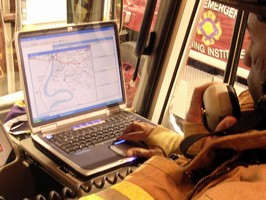 NetTalon of Fredericksburg, VA has been authorized to apply the Underwriters Laboratories (UL) mark to its fire protection and security systems. Known as the NetTalon 3000, these systems include a network of tools which allow emergency response personnel to remotely assess the scope of fire and security intrusion risks before arriving at the emergency. This technology is known as Virtual Command Technology.

The fire protection system offers a major advantage for firefighters in fire control and victim rescue. The system reports alarm conditions simultaneously to all authorized monitoring stations (central, proprietary, local and enroute) within two seconds of a sensor or smoke detector going into alarm and provides real-time digital temperature information allowing responding units to track the spread of the fire. Sensor and detector conditions depicting the nature of the evolving emergency are reported instantly on a graphic representation of a building's floor plan. Icons that represent the temperature sensors and smoke detectors are overlaid on the floor plan and change color and/or report actual temperatures indicative of the alarm conditions. Responding fire personnel can remotely view and understand a fire emergency before the first engine leaves the firehouse.

The security protection system reports alarm conditions to all authorized monitoring stations within two seconds of a sensor going into alarm and provides responding units the ability to track the intruder in real-time. When deployed in a classroom environment these sensors, duress buttons, and cameras, are all integrated into a real-time graphics monitoring systems that is networked to authorized monitoring stations and the local police department. This allows responding personnel to monitor events in real-time while planning their incident response tactics on-route.

Both of these systems were recently demonstrated in the City of Baton Rouge, LA. A series of comparative training exercises with joint police and fire departments allowed fire and police responders to reach a fire or intrusion emergency with incident planning and preparation in progress before arriving at an emergency scene.

Police Chief, Jeff LeDuff said, "Our number one priority is the safety of our children. With this technology in a school our kids and communities will be much safer."

Fire Chief, Ed Smith said, "During these drills - when I was sitting at my desk with a laptop, I could see the fire, the temperature of the fire, where it was moving, where the smoke was moving and how to fight that fire."


Related