NEMA AC Motors come in 42, 48, and 56 frame sizes.
Press Release Summary: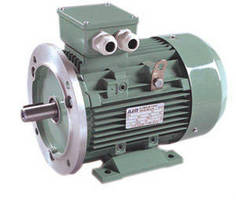 Available in 3-phase and single-phase TEFC and open drip-proof types, NEMA48 and NEMA56 motors are designed with 1.00, 1.15, or 1.25 service factors, depending on rating and frame size, for overload conditions. Units have double shielded bearings and are offered with rolled steel, cast iron, or aluminum housings. With input voltage of 115-120 Vac, NEMA42 motors deliver output power from 118-360 W and are available with 4, 6, or 8 poles.
---
Original Press Release:
NEMA Frame AC Motor
Telco Intercontinental Corp. releases a new line of NEMA series AC motors. Our NEMA frame AC motors have advantages of high efficiency, large starting torque, low noise, and optimized structure. Their mounting type, power class and performance requirement all comply to the standard of National Electrical manufactures Association. Our featured NEMA AC products include NEMA48&56, NEMA42. Features of NEMA48&56
o Energy Saving Choice
o Frame options include 48, 48Y, 48Z, 56, 56C, 56J, 56CZ, 56YZ
o Two kinds of protection class: TEFC (totally enclosed fan cooled type) and ODP (open drip-proof type)
o Available in three phase and single phase ODP and TEFC
o Motors are designed with a 1.oo, 1.15 or 1.25 service factors, depending on the rating and frame size, for overload conditions.
o Doubled shielded bearings
o Insulation classes including B or F rise at full load
o Housing materials are available in rolled Steel, cast iron and aluminum
o Good quality and dependability
o Variety of enclosures and mounting configuration
o Special shaft and mounting can be customized to customer's requirement. Features of NEMA42
o Input voltage is 115-120 VAC
o Output power ranges from 118 W to 360 W
o Rated power is up to 340 W
o 4, 6 and 8 poles available
o Core thickness includes 20mm, 25mm, 30mm and 50mm Applications
o air compressors, pumps, conveyors, material handling, blowers and general industrial equipment
More from Fluid & Gas Flow Equipment