Near-Infrared Spectrometer covers 1,100-1,900 nm range.
Press Release Summary: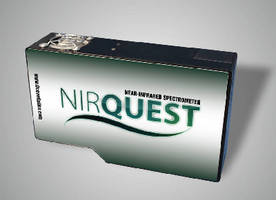 Featuring 512-element Hamamatsu InGaAs-array detector, standard NIRQuest512-1.9 comes with 150 lines/mm grating, 25 micron entrance slit, and non-fluorescing longpass filter that transmits greater than 1,000 nm and helps mitigate second-order effects. Signal to noise ratio at full signal is 15,000:1 at 100 ms integration time. With external hardware triggering functions, users can capture data when external event occurs, or trigger event after data acquisition.
---
Original Press Release:

Ocean Optics High Resolution Near-Infrared Spectrometer Covers 1100-1900 nm



NIRQuest512-1.9 Extends Wavelength Range



MUMBAI -- Ocean Optics (www.oceanoptics.com [http://www.oceanoptics.com ]) has added another option to its small-footprint near-infrared spectrometer line with the NIRQuest512-1.9. A high-resolution device with response from 1100-1900 nm, NIRQuest512-1.9 is well suited for applications ranging from monitoring changes in food production and chemical processing to characterizing lasers for semiconductor assembly and medical treatment.



NIRQuest512-1.9 has a high-stability, 512-element Hamamatsu Indium Gallium Arsenide (InGaAs)-array detector and is available with multiple grating and optical bench options for optimizing performance between 1100-1900 nm. The standard NIRQuest512-1.9 comes with a 150 lines/mm grating, 25 micron entrance slit and a non-fluorescing longpass filter that transmits >1000 nm. The filter helps to mitigate second-order effects.



NIRQuest512-1.9 has external hardware triggering functions that allow users to capture data when an external event occurs, or to trigger an event after data acquisition. Spectrometer operation is controlled using SpectraSuite software, a modular, Java-based spectroscopy platform.



The low dark noise characteristics of the NIRQuest make it possible to integrate the spectrometer (or expose the detector in the spectrometer to light) for longer durations, which is useful in low light level environments. Signal to noise ratio at full signal is 15000:1 at 100 millisecond integration time. High gain mode operation is available for applications where sensitivity is paramount.



About Ocean Optics

Headquartered in the USA, Ocean Optics is a leading supplier of solutions for optical sensing - fundamental methods of measuring and interpreting the interaction of light with matter. With locations in Asia and Europe, the company has sold more than 100,000 spectrometers worldwide since 1992. Ocean Optics' extensive line of complementary technologies includes chemical sensors, analytical instrumentation, optical fibres, thin films and optics. The company is a subsidiary of Halma p.l.c.



About Halma

Halma p.l.c. [http://www.halma.com ] is an international market leader in safety, health and sensor technology. A public company listed on the London Stock Exchange, it has over 4000 employees in 40 subsidiaries worldwide. Halma's subsidiaries make products that protect lives and improve the quality of life for people through innovation in market leading products which make its customers safer, more competitive and more profitable. These subsidiaries are assisting India's economy in areas such as manufacturing, energy, water and waste treatment, the environment, construction, transport and health.



For further news about Halma in India and to subscribe to the Halma India RSS News Feed, please visit our news blog [http://halmapr.com/news/india ].



Website: www.halma.com [http://www.halma.com ]



Primary Media Contact: Mr Kuniyur J. Srinivasan, srini@halma.com, 91-22-67080400



Secondary Media Contact: Damian Corbet, damian.corbet@halma.com, 44-1494-789152

More from Cleaning Products & Equipment