Nd:YAG Lasers are offered with injection seeder.
Press Release Summary: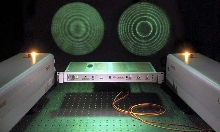 Surelite lasers are offered with injection seeding system that produces single longitudinal mode outputs with smooth temporal profile and delivers near transform limited linewidths. Fiber-delivered seed system is self-contained in rack-mount power supply with one polarization-preserving single mode fiber optic delivery cable and one multi-mode cable. Third electrical cable supplies piezo ceramic transducer voltage to hold oscillator cavity fixed in frequency.
---
Original Press Release:
Continuum is Proud to Announce the Release of a New Injection Seeder System for the Surelite Family

Continuum is proud to announce the release of a new injection seeder system for the Surelite Family of Nd:YAG lasers. Seeding produces ultra-narrow single longitudinal mode (SLM) outputs with a smooth temporal profile. The technique delivers near transform limited linewidths and smooth temporal profiles for hours of flawless operation. Seeding is accomplished by injecting a seed beam from a single mode cw diode pumped fiber laser into a Surelite oscillator. Continuum pioneered the commercial introduction of this technique and holds the patent on its use with radially variable reflectivity resonator optics*.

* U.S. Patent #4,918,704

Fiber Delivery Continuum customers are familiar with this technique since injection seeding has been an option of the Powerlite Series using a seeder laser which bolts directly on the Powerlite bench. However, due to the size constraints on the Surelite bench, it became necessary to develop a fiber delivered seed system. The resulting system is self contained in a rack mounted power supply with one polarization preserving single mode fiber optic delivery cable (C) which brings the light to the Surelite oscillator, and one multi-mode fiber optic cable (B) to bring back the feedback pulse from the leakage pulse through the rear mirror (1). The third electrical cable (A) completes the connections by supplying the piezo ceramic transducer voltage to hold the Surelite oscillator cavity fixed in frequency.

Applications

Injection seeding produces output that has both narrow SLM linewidth and smooth temporal profile. Important applications that require narrow linewidth include pumping narrow linewidth tunable systems, holography, and Doppler LIDAR. Since the fiber seed laser can be temperature tuned over a narrow range, other applications will benefit as well. The smooth temporal profile of the seeded output can also be critical for applications where precise timing is desirable.

Flexible and Reliable

The fiber seeder was designed with flexibility and ease of use in mind. The rack mount power supply allows for simple integration and serviceability. The main diode of the fiber seed laser itself was designed around the very stringent standards of the Telecom Industry (Telcordia-Qualified) and has an expected lifetime of over 20 years. The integrated power supply which drives the seed laser is auto sensing for use worldwide (100-240VAC, 47-63Hz).

Upgrades

Finally, the design of the new seeder allows current Surelite systems to be upgraded in the field to seeded operation. The procedure requires a Field Service visit and generally takes less than one day to complete.

Field General Information:

Contact Person:

Gabriela Melak

Marketing Communications

408.588.4370

[email protected]

Company Information:

Name: Continuum

Address: 3150 Central Expressway

City: Santa Clara

State: CA

Zip: 95051

Country: USA

Phone: 408.727.3240

Tall Free: 866.532.1064

Fax: 408.727.3550

Web: www.continuumlasers.com