National Installer & Fabricator Completes Major Baghouse Upgrade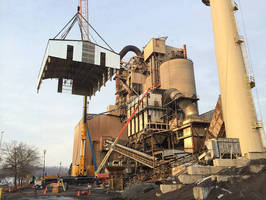 Goodhart Sons, Inc., a 79-year-old non-union ASME code shop, industrial fabricator and erector serving both domestic and international clientele, recently completed a 56 day outage for a major baghouse manufacturing organization whose end customer was an international cement company.  From initial mobilization to final walkthrough, Goodhart Sons, Inc. completed the entire installation on-time, even with multiple scope additions.



For this project, the initial scope of work included two months of component pre-assembly as supplied by the manufacturer.  After a short Christmas holiday, the shutdown commenced with two crews working on a 24 x 7 schedule.  During the shutdown phase, the work scope included removal of the existing roof, tube sheet, ductwork and platforms with Goodhart Sons, Inc. subsequently fabricating and installing all baffles, turning vanes, platforms and ductwork.



Key to the success of this project was Goodhart Sons, Inc. ability to overcome multiple job site obstacles which were mainly weather related.  During the field installation phase, Goodhart Sons, Inc. endured eight separate snow events that presented multiple job site challenges but did not affect the final completion schedule.  This project completion success can be attributed to the outstanding on-site project management and field crew dedication carried-on throughout the project.



Goodhart Sons, Inc. is a fully equipped steel fabricator and installer located in Lancaster, PA. with over 175,000 square feet of production space. They are ASME Section VIII, Division I board certified in possession of their R, S and U stamps as well as an AISC Member and are up to the challenge of completing your project with the highest level of quality, on time, and within budget.



Goodhart Sons, Inc. also employs millwrights, riggers, welders, pipefitters, electricians and insulators that travel the country and abroad to install the projects that they fabricate as well as many types of OEM equipment and production lines. They also the experience and resources to plan and execute complicated shut-downs.



More from Machinery & Machining Tools