NASA Chooses DDC's MIL-STD-1553 PCI-Express Cards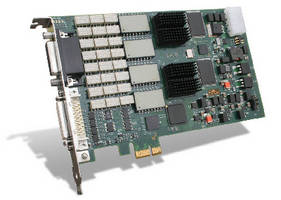 NASA Chooses DDC's MIL-STD-1553 PCI-Express Cards for System Integration and Software Development Labs!

Bohemia, New York - Data Device Corporation (DDC) has been selected by NASA to supply MIL-STD-1553 PCI-Express cards for NASA's System Integration and Software Development Labs to support the Ares-1 Launch Vehicle. Ares-1 is the crew launch vehicle being developed by NASA as a component of the Constellation Program.

DDC was selected based upon the proven performance of the BU-67106K MIL-STD-1553 PCI Express card, combined with DDC's demonstrated ability to adapt designs and processes to meet stringent program requirements, and to continuously supply superior technical support.

"DDC is proud to have achieved the high standards required by NASA for its space mission system integration and software development labs. DDC's products are a perfect choice for mission critical programs, confirmed by our time proven record of meeting the most stringent defense and aerospace requirements", stated Sean Sleicher, DDC's Data Bus Marketing Manager.

The BU-67106K PCI Express card is built upon DDC's powerful new AceXtreme(TM) 1553 core, offering:

o Up to four dual redundant MIL-STD-1553 channels operating in Bus Controller (BC) or Multi-RT (0 to 31) modes, with a concurrent Bus Monitor (MT)

o Software configurable bus coupling and termination options

o Native PCI-Express design (does not require restrictive PCI-E to PCI bridging)

o Message Signaled Interrupt (MSI) support

o Flexible discrete I/Os

o IRIG-B Time Code and Time Tag Clock input and output

Data Device Corporation (DDC) is the world leader in the design and manufacture of high-reliability data bus products, motion control, and solid-state power controllers for aerospace, defense, and industrial automation applications. For more than 45 years, DDC has continuously advanced the state of high-reliability data communications and control technology for MIL-STD-1553, ARINC 429, Synchro/Resolver interface, and Solid-State Power Controllers with innovations that have minimized component size and weight while increasing performance. DDC offers a broad product line consisting of advanced data bus technology for Fibre Channel networks; MIL-STD-1553 and ARINC 429 Data Networking cards, components, and software; Synchro/Resolver interface components; and Solid-State Power Controllers and Motor Drives. DDC headquarters and their design and manufacturing operations are located in Bohemia, NY.
For more information, visit www.ddc-web.com.


More from Fluid & Gas Flow Equipment