Narda To Show Advanced Products for 40 Gb/s and Beyond at OFC/NFOEC 2008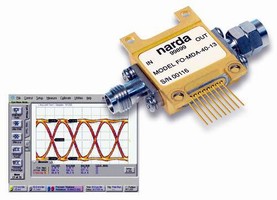 The ever-increasing demand for faster communication networks with more capacity will be a major topic at the Optical Fiber Communication Conference and Exposition and the National Fiber Optic Engineers Conference (OFC/NFOEC) Feb. 24-28 at the San Diego Convention Center.

Narda will be exhibiting data driver products that support this theme and are applicable for data rates at 40 Gb/s and beyond. Narda's expertise in this field is derived from its leadership in microwave technology for over 50 years, manufacturing products in the 500 MHz to 80 GHz frequency range. Narda's know-how at these high data frequencies makes possible practical modulator drivers, clock oscillators and other niche RF functionality's in this area.

To learn more about Narda's superior technology, please visit Booth 3839 at OFC/NFOEC or surf our web site.


More from Adhesives & Sealants