MVTec Updated HALCON Software Supports Arm® NEON and GPU Acceleration
Press Release Summary: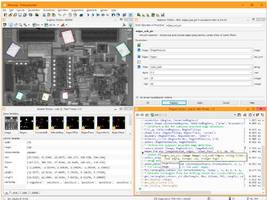 MVTec HALCON Software is designed for machine vision applications. HPeek Tool helps in evaluating the functionality of the HALCON. The software is used in industries for blob analysis, morphology, matching, measuring, identification, and 3D vision processes.
---
Original Press Release:
Toradex Collaborates with MVTec to Simplify Machine Vision on Embedded Devices
HPeek enables evaluation of the functionality of MVTec HALCON, the comprehensive standard software for machine vision with an integrated environment (HDevelop). HALCON is used widely across many industries - it simplifies tasks such as blob analysis, morphology, matching, measuring, identification, and 3D vision. To accelerate the execution, it supports Arm® NEON as well as GPU acceleration.
To learn more and to get a chance to ask questions and have them answered directly by the experts, join Toradex' upcoming webinar scheduled for 26 April 2018. Participants will experience the use of HPeek and will learn how to develop a first "hello world" program with HALCON.
"We are very happy about the collaboration with Toradex and are looking forward to our joint webinar. MVTec HALCON is banking on Toradex' embedded Arm-based computer modules. In conjunction with HALCON, these modules are ideally suited for embedded vision applications" says Christoph Wagner, Product Manager Embedded Vision at MVTec Software GmbH. Examples for these modules are Computer on Modules (CoMs), Apalis TK1, and Apalis iMX6. "Having the possibility to download HPeek directly via the Toradex Easy Installer will be of great benefit for customers. With HPeek they experience a first hands-on impression of HALCON's power in combination with the aforementioned CoMs: The key features of HALCON, including application examples, are shown in a screen presentation, and the examples (including runtime measurements) are executed directly on the device. This makes HPeek a great benchmarking tool to evaluate HALCON's performance on Toradex boards." he adds.
"It is great to welcome MVTec to our partner network. For our customers, this collaboration means a leading machine vision tool chain is ready-to-use, thus lowering the risk and time-to-market. Toradex believes industrial machine vision will experience strong growth and we are backing this up with a product line up ideal for vision tasks; such as the brand new Apalis i.MX8 QuadMax or the Apalis NVIDIA Tegra TK1." says Daniel Lang, Chief Marketing Officer at Toradex.
About MVTec
MVTec is a leading manufacturer of standard software for machine vision. MVTec products are used in all demanding areas of imaging: Semi-conductor industry, web inspection, quality control and inspection applications in general, medicine, 3D vision, and surveillance. MVTec, with its head office in Munich (Germany), has more than 30 established distributors worldwide and in addition, MVTec, LLC works out of Boston, MA (USA). www.mvtec.com
About MVTec HALCON
MVTec HALCON is the comprehensive standard software for machine vision with an integrated development environment (HDevelop) that is used worldwide. It enables cost savings and improved time to market. HALCON's flexible architecture facilitates rapid development of any kind of machine vision application. MVTec HALCON provides outstanding performance and a comprehensive support of multi-core platforms, special instruction sets like AVX2 and NEON, as well as GPU acceleration. It serves all industries, with a library used in hundreds of thousands of installations in all areas of imaging like blob analysis, morphology, matching, measuring, and identification. The software provides the latest state-of-the-art machine vision technologies, such as comprehensive 3D vision and deep learning algorithms.
The software secures your investment by supporting a wide range of operating systems and providing interfaces to hundreds of industrial cameras and frame grabbers, in particular by supporting standards like GenICam, GigE Vision, and USB3 Vision. By default, MVTec HALCON runs on Arm®-based smart cameras and other embedded vision platforms. It can also be ported to various microprocessors/DSPs, operating systems, and compilers. Thus, the software is ideally suited for the use within embedded systems.
www.halcon.com, www.embedded-vision-software.com
 Press Contact MVTec Software:
MVTec Software GmbH
Press Requests
Arnulfstraße 205
D-80634 München
Phone:: +49 (0)89-457695-0
Email: press@mvtec.com
Web: www.mvtec.com
Schwartz Public Relations
Jörg Stelzer
Sendlinger Straße 42 A
D-80331 München
Phone: +49 (0)89-211 871 -34
Email: mvtec@schwartzpr.de
Web: www.schwartzpr.de/en
More from Communication Systems & Equipment