Murata's LTE-M Solution Earns PTCRB and GCF Wireless Certifications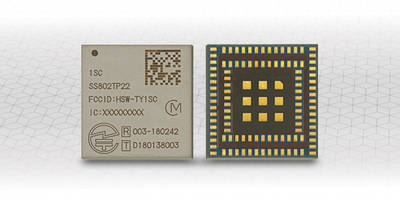 Smyrna, GA, October 22, 2019 – Murata Electronics today announced that its Type 1SC LTE-M solution has secured new certifications from both the PCS Type Certification Review Board (PRCRB) and the Global Certification Forum (GCF). PTCRB certification was established by North American wireless operators and defines specifications that ensure a device's interoperability and compliance standards. GCF demonstrates that a phone or other connected device is compliant with the organization's requirements and is compatible across a variety of mobile networks. Together, the certifications represent the industry's most comprehensive third-party validation.
Measuring just 11.1x11.4x1.4 m, the ultra-small cellular modem features worldwide coverage in low and mid bands, low current consumption, and a battery life of more than 10 years. In addition to providing customers with the flexibility to switch between global modes, it allows for secure boot architecture and a robust hardware-based security framework. These factors make it ideally suited for small, battery operated IoT devices and applications.
"Achieving these additional milestones represents the demand that we are seeing in the market for highly advanced solutions that can be seamlessly rolled out on a global level. Most importantly, these certification act as a reassurance to developers that our LTE solution delivers best-in-class performance and enables ease of deployment," stated Mehul Udani, Senior Director of Strategic Marketing for Murata Americas.
More information can be found at www.murata.com.
About Murata
Murata Manufacturing Co., Ltd. is a worldwide leader in the design, manufacture, and sale of ceramic-based passive electronic components and solutions, communication modules and power supply modules. Murata is committed to the development of advanced electronic materials and leading edge, multi-functional, high-density modules. The company has employees and manufacturing facilities throughout the world. For more information, visit Murata's website at https://wireless.murata.com.