Muntin Tape adheres simulated divided light grilles.
Press Release Summary: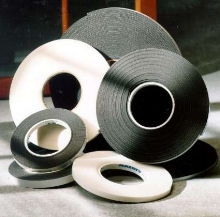 Manufactured to consistent thickness, ARclad® 90642 foam muntin tape incorporates adhesive that is customized to resist stress, fatigue, vibration, temperature cycling, moisture, UV, and cleaning solutions. Tape conforms to glass and muntin surfaces and requires no silane primer application. It resists thermal expansion and contraction of aluminum bars as well as relative humidity-induced warping, expansion, and contraction of wood bars.
---
Original Press Release:
Adhesives Research Showcases New ARclad® 90642 High-Performance Muntin Tape
GLEN ROCK, Pa. (July 27, 2005) - Adhesives Research, Inc., (AR) a leading global developer and manufacturer of high-performance pressure-sensitive adhesive tapes, will be showcasing its complete line of muntin mounting and glazing tapes at the GlassBuild America Show, September 13-15, 2005, in the Georgia World Congress Center, Atlanta, GA. Also on display in booth #549 will be Adhesives Research's new high-performance muntin tape, ARclad® 90642, which has been specifically designed for simulated divided light (SDL) grilles. Adhesives Research has been designing and manufacturing muntin mounting and glazing tapes for the past 15 years. Its ARclad® double-sided, pressure-sensitive foam muntin mounting tapes are designed for bonding grilles made from unplasticized vinyl, wood, and painted aluminum to windows. ARclad® foam muntin mounting tapes are manufactured to a consistent thickness and incorporate a unique adhesive that includes a UV-resistant polymer. They provide a reliable, cost-effective solution for residential window manufacturers and help reduce application time and cost. They have been designed to tolerate common household cleaners and compensate for thermal expansion and contraction. These tapes are available in gray, white, and black, and offer a solvent-free way to adhere wood, painted aluminum, and PVC-extruded muntin bars to simulated divided light windows and doors. ARclad® 90642 is a new high-performance muntin tape specifically designed for multiple substrate grilles. Unlike general industrial bonding tapes offered by companies for this application, ARclad® 90642 has been engineered for long-term performance requirements for internal and external SDL bars. Among its major benefits are: o Provides optimum balance of physical properties to meet rigorous demands of bonding SDL grilles. o Requires no silane primer application on glass, and eliminates the risks associated with the use of silane. o Conforms well to glass and muntin surfaces. o Offers excellent foam-to-surface wet-out. Prevents ingress of contaminants that could cause de-lamination. o Contains an adhesive that was customized to resist stress, fatigue, vibration, temperature cycling, moisture, cleaning solutions, and UV. o Resists thermal expansion and contraction of aluminum bars as well as relative humidity- induced warping, expansion, and contraction of wood bars. o Designed to have excellent dynamic shear performance to successfully withstand the rigors of day-to-day use (e.g., homeowners using the grilles to open and close windows, etc.). o Bonds well to painted aluminum primed and unprimed wood grilles. ARclad(TM) glazing tapes are ideally suited for sealing window assemblies in substrates such as plastics, vinyl, metals, and construction materials, including glass and preserved wood. These glazing tapes are coated on both sides with a high-tack, creep-resistant adhesive that greatly reduces the potential for movement of the adhesive and glass during production and post-production of windows. Demonstrating consistent performance, these flexible polyethylene foam glazing tapes provide customers with an instant solvent-free bonding method and significant manufacturing cost savings over other methods of glazing, such as butyl tapes and liquid sealants. The ARclad(TM) 3600 series is the Company's latest addition to its line of high-performance glazing tapes. This gray-colored series of expanded cellular foam glazing tapes is coated on both sides with an acrylic-based, pressure-sensitive adhesive for superior adhesion and long-term holding power. The 3600 series joins the Company's existing ARclad(TM) 2000 and 3000 series of glazing tapes. The ARclad(TM) 2000 line of double-faced glazing tapes features a high-strength, creep-resistant synthetic rubber adhesive for long-term holding power. Adhesives Research's ARclad® 3000 series of flexible, acrylic glazing tapes offers a quick, solvent-free bonding method that provides customers with time- and cost-saving advantages. Both series of these glazing tapes are available on white or black polyethylene foams in various thicknesses. Completing the Company's line of double-faced glazing tapes is the ARclad® 8000 series. This white polyethylene foam glazing tape provides excellent bonding properties with an acrylic-based, pressure-sensitive adhesive on one side that adheres to the sash material and a rubber-based adhesive on the other side that bonds to the glass. Adhesives Research continues to work in close partnership with the window and door industry to develop and improve industry standards. This includes an active participation in the American Architectural Manufacturers Association (AAMA), by attending meetings, chairing task groups, and actively voting on industry-wide issues, as well as ensuring that ARclad(TM) foam glazing tapes meet the voluntary specifications set under AAMA section 810.1 for expanded cellular foam glazing tape, Type 1 sealing applications. To better service window and door manufacturers' supply and component needs, Adhesives Research utilizes a network of sales representatives, converters, and warehouses located in critical regions throughout North America, including Texas, Michigan, Oregon, New York, and Florida, as well as Canada and Mexico. In the competitive window muntin mounting and glazing market, Adhesives Research is the only company to have this type of comprehensive network that can quickly and effectively address the needs of window and door manufacturers all over North America. This network includes a number of converters that can slit or trim the Company's line of ARclad tapes into standard or custom sizes and provide timely delivery direct to the manufacturing line. The sales representatives and converters all have the ability to regionally supply window and door manufacturers throughout North America to ensure that the customer receives the highest possible level of technical and sales support. Adhesives Research's pressure-sensitive adhesives are also used around the world in medical diagnostics and devices, wound care and pharmaceuticals/transdermals as well as other diverse markets such as the electronics, automotive, construction, appliance, and pulp and paper industries. Founded in 1961, Adhesives Research offers problem-solving capabilities and custom solutions in adhesive polymerization, mixing, adhesive coating, and release-liner design supported by extensive product development and analytical support. The Company's facilities in North America and Ireland are certified to the updated ISO 9001:2000 standard. Based in Glen Rock, Pennsylvania, Adhesives Research, Inc., also operates manufacturing facilities in Ireland, Australia and Colombia, has sales offices in Great Britain, Germany and Singapore, and sales representation in Japan, Korea, Taiwan and Thailand. For more information or to locate a participating sales representative, contact Marge Morgan, Industrial Sales Development Coordinator, at Adhesives Research, Inc., at 1-800-445-6240 (extension 1-3359) or 717-235-7979 outside North America, or visit the Adhesives Research web site at www.adhesivesresearch.com. Adhesives Research® is a registered trademark of Adhesives Research, Inc., for engineering and design services in the field of pressure-sensitive adhesive systems.