Munters HC-150, HC-300 Industrial Dehumidifacation Units Receive ETL Compliance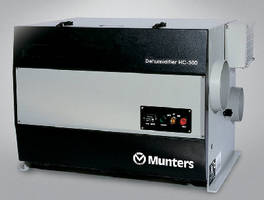 The Munters HC-150 and HC-300 desiccant dehumidification units have been inspected, tested and approved for ETL compliance to UL 1995 by Intertek Testing Services. The ETL Listed Mark is a nationally recognized product safety mark for both consumer and industrial products.

"In addition to compliance with accepted national safety standards, ETL certification indicates that our manufacturing facility conforms to a range of safety specifications and is subject to periodic follow-up inspections to verify continued conformance," said Larry Klekar, director of national accounts. "The certification gives our customers added confidence in our products, and is proof that product quality and safety come first at Munters."

The HC-150 and HC-300 industrial dehumidifiers are off-the-shelf units that combine state-of-the-art desiccant technology with dependability and long operating life for humidity control at virtually any temperature. The units are designed for product drying, mold and mildew control, corrosion protection, storage and condensation control. Typical applications include maintaining low humidity levels in environmental chambers or warehouses.

The small size and weight of the HC-150 and HC-300 make them easy to install. The units casings are manufactured of fully welded, strain hardened aluminum to ensure zero air leakage. Control is accomplished via a printed circuit board located behind an access panel for simple inspection and maintenance. Metal mesh filters are standard on all HC units.

Munters HC series units are available in nominal flow rates of 75 to 300 CFM.

Munters manufactures engineered products that can economically control humidity and temperature, provide energy recovery, and/or utilize direct or indirect evaporative cooling for comfort, process and environmental protection. With permanent solutions, Munters offers a wide variety of options to meet specific climate, application and budget requirements.

Munters is a global leader in energy efficient air treatment solutions with net sales approaching $700 million USD, more than 20 manufacturing facilities across the globe and sales offices in over 30 countries. Munters employs approximately 4,300 people worldwide. For more information, visit www.munters.us.

Related