Multipurpose RF Receiver allows master transmitter programming.
Press Release Summary: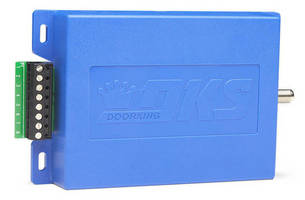 Intended for access control applications, model 8040 uses superhetrodyne RF circuit for optimal receiving range, has built-in selector switch that facilitates programming, and offers low power draw operating mode to accommodate demands of solar power applications. Dry contact relay is provided for door or gate operator activation or for magnetic or electric door strike release, and unit is also programmable for 26-, 30-, or 31-bit weigand output.
---
Original Press Release:

DoorKing Introduces Multi-Purpose RF Receiver



Inglewood, CA – DoorKing has added a new multi-purpose receiver to its line of RF access control products.  The new receiver provides for longer range operation, easier programming and has a low power draw feature that makes it an ideal accessory for solar powered applications.



The model 8040 is a multi-purpose RF receiver that can be used in a variety of access control applications.  For stand-alone applications, a dry contact relay is provided for door or gate operator activation, or for magnetic or electric door strike release.  The receiver can also be programmed for 26, 30 or 31-bit weigand output, making it compatible with most access control systems.  A new low power draw operating mode makes the 8040 ideal for solar power applications as well.  Richard Sedivy, DoorKing's Director of Marketing also added, "The new 8040 can be used with our MicroClik and MicroPlus transmitters, so Distributors and Dealers no longer need to stock different receivers."  The 8040 programming is simplified with a selector switch built into the receiver.  Installers simply select which mode they want the receiver to operate in, and then proceed with transmitter programming.  Another unique feature of the 8040 allows the installer to program a master transmitter.  The master transmitter allows the consumer to easily add additional transmitter codes to the receiver memory, without having to put the receiver into a programming mode.  Sedivy also added, "The 8040 uses a superhetrodyne RF circuit which increases its receiving range.  Our customers will be happy with the increase in range they will see."



For additional information, visit the company's web site at www.doorking.com or contact the DoorKing Sales Department at 800-826-7493.  DoorKing, Inc. is one of the largest and oldest manufacturers of access control and vehicular gate operator products in the country.