Multiposition Valves feature preload design.
Press Release Summary: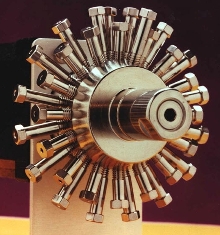 MW Type Multiposition Valves offer various flow configurations, port and fitting sizes, and actuation options. Rotor can be inspected or replaced without removing valve from actuator. Valves are available with 4 to 16 positions. Standard valve body material is stainless steel, however, valves may be ordered in Hastelloy C-22 or Nitronic 50.
---
Original Press Release:
MW Multiposition Valves
Valco's new MW Type Multiposition Valves offer the market's greatest variety of flow configurations, port and fitting sizes, and actuation options. The preload design allows the rotor to be inspected or replaced without removing the valve from the actuator, and if an MW valve is ordered with a VICI microelectric actuator, alignment is always automatic. Valco MW Multiposition Valves are available with 4 - 16 positions, in five configurations ranging from simple stream selection to more complicated trapping functions. Standard valve body material is stainless steel, however, valves may be ordered in optional materials such as Hastelloy C-22 or Nitronic 50. MW valves can be ordered with any of our standard air or electric actuators and accessories. For more information: Valco Instruments Co., Inc. P.O. Box 55603, Houston, Texas 77255; Phone: (800)367-8424; Fax: (713) 688-3948; Web: vici.com; e-mail: valco@vici.com Marketing Ideas and Designs, Inc. is the advertising agency representing Valco Instruments Co., Inc. for press releases. Please address all questions to our office at 9166 Co. Rd. 121, Valley Head, AL 35989. Phone (256) 657-6423, Fax (256) 657-6428. ATTN: LaDonna Herrera
More from Fluid & Gas Flow Equipment