Multiple Protocol Controller suits critical environments.
Press Release Summary: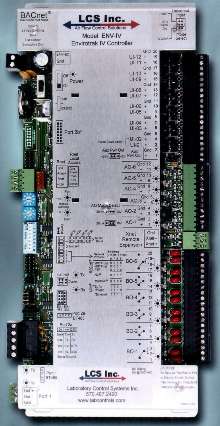 With 25 µsec scan rate, 1 Mb Flash memory, and 1 Mb RAM, microprocessor-based Envirotrak® IV controls equipment and processes used to maintain room temperature, pressure, humidity, airflow, or any combination of the above. It supports BACnet, Modbus, LonWorks, and N2 protocols and incorporates up to 48 I/O control points. Product may be programmed to scan each individual point in any sequence without imposing limits on application or number of downloadable graphic programs.
---
Original Press Release:

Multiple Protocol Controller for Critical Environments


Envirotrak IV® supports popular protocols in a 48 point platform with 25 µsec scanning speeds

A new high speed, microprocessor-based controller for critical environment control has been introduced by Laboratory Control Systems, Inc., Scranton, PA. The Envirotrak® IV controller precisely controls a variety of equipment and processes used in critical environment facilities such as laboratories, fume hoods, and airflow and pressurization control systems in BSL suites, isolation, and containment rooms. This new controller - with its 25 µsec scan rate and powerful 1 MB Flash memory and 1 MB RAM - offers substantial capacity to manage a wide variety of complex HVAC equipment and systems.

It may be used virtually anywhere precise control of room temperature, pressure, humidity, airflow, or any combination must be maintained.

The Envirotrak IV incorporates up to 48 I/O control points, and may be programmed to scan each individual point in any sequence desired without imposing limits on the application or number of downloadable graphic programs (depending upon memory capacity). In addition to its high speed, the Envirotrak IV supports all four popular protocols used in most building automation systems (BAS) including ASHRAE's BACnet, Modbus, LonWorks, and Johnson Control's N2. The controller also supports BACnet/IP communications through an optional Ethernet plug-in card which can serve up web pages to a standard internet browser package for remotely monitoring any system, anywhere. The Envirotrak IV can also be pre-set with point "mapping" to all of these protocols, thus permitting discrete protocol and baud rates to be quickly and conveniently field selectable or switched without the need for additional downloads or technical assistance.

A native BACNET controller, the Envirotrak IV permits virtually seamless integration with most devices and systems used in current building automation systems. This is a key advantage for managing multiple controlled environment areas within a facility, for example, or even a facility with just two laboratories, since the controller provides seamless integration into the building's entire automation system.

To assure broad applications flexibility - regardless of facility type - the Envirotrak IV incorporates six digital outputs, twelve universal inputs, and six universal outputs (switch selectable for digital or analog formats). If additional I/O capacity is required, the controller also supports communication to one point expander board. LCS offers a variety of expander boards for use with the controller including an I/O x 440, I/O x 880, and I/O x 8160. An integral battery-backed, real-time clock permits full standalone scheduling capabilities as well as historical trend data storage and alarm event time stamping.

Laboratory Control Systems offers a variety of products and systems for control and monitoring of critical environments. In addition to the new Envirotrak IV control system, the company's Lab-Link® protocol translators permit integration of Envirotrak control systems with other environmental control equipment via industry standard protocols. LCS also offers full capabilities for network architecture and systems integration associated with management of critical environments. For more information about the company, or full technical details and applications advice on new Envirotrak IV microprocessor-based controllers, contact Laboratory Control Systems, Inc., 2259 Scranton-Carbondale Highway, Scranton, PA 18508; telephone: (570) 487-2490; fax: (570) 487-2494; email: info@labcontrols.com; www.labcontrols.com

More from Fasteners & Hardware