Multimedia Cabling System is Cat6 and HD/SDI compatible.
Press Release Summary: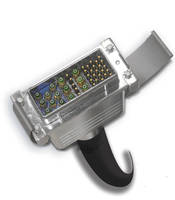 Simplifying set up by eliminating need to make individual connections directly to equipment and wall panels, AV2000 multi-pin connector system can accommodate audio, high definition video, data over Cat6 cabling, and control signals in single sophisticated hybrid connector. System utilizes 3 components; access point, umbilical and link, and can be integrated into any existing AV system. Applications include multi-media presentation rooms, corporate board rooms, and classrooms.
---
Original Press Release:

Wireworks Highlights Renowned AV2000 Multimedia Cabling System at InfoComm 2009



Now Cat6 and HD/SDI Compatible

ORLANDO, FL, JUNE 15, 2009 - Wireworks, the leading innovator of audio/video cabling systems and custom panels, is highlighting its renowned and completely adaptable AV2000 MultiMedia Cabling System at this year's InfoComm show (Booth 5221). AV2000 now offers users additional cabling elements such as Cat6, high speed data; and HD/SDI, high definition video and serial digital interface.

The unique AV2000 MultiMedia Cabling System is the only multi-pin connector system that can accommodate audio, high definition video, data over Cat6 cabling, and control signals in a single sophisticated hybrid connector. Each AV2000 system is configured to match each project's specific equipment requirements in terms of cable types, lengths and tail terminations.

This single connector solution simplifies set up by eliminating the need to make individual connections directly to equipment and complicated wall panels; it also eliminates mis-plugging and increases system reliability. Ideal for multi-media presentation rooms, corporate board rooms, classrooms and other integrated communications applications, the AV2000 MultiMedia Cabling connects multimedia systems through one simple and reliable plug in, offering a practical, time and
cost-efficient solution for both the installer and end-user. AV2000 offers a configured drop-in solution with an unprecedented turn-around time, vital for the AV professional.

"AV2000 provides the solution to the clutter and confusion associated with multiple connector panels through one simple, reliable interconnect," says Gerald Krulewicz, president of Wireworks. "The system dramatically reduces plugging time and saves panel space needed for highly integrated multimedia projects. Wireworks is proud to have the only proven product on the market that can achieve this customized solution, without compromising the quality that Wireworks is known for."

Utilizing three components - the Access Point, the Umbilical and the Link - AV2000 can be easily integrated into any existing AV system. Access Points are typically mounted on gang, rack, or wall panels, terminated with individual cables for connection directly to system components. Access Points can be easily retrofitted into existing systems. AV2000 Umbilicals are flex-wrapped cable assemblies terminated on one end with a single hybrid connector; the other end of the cable assembly is a fanout for direct equipment connection. Links are a flex-wrapped cable assembly terminated on each end with an AV2000 connector. Links are designed to connect between two Access Points or they can be used as extensions with AV2000 Umbilicals for added system flexibility.

AV2000 HD/SDI MultiMedia Cabling features rugged cast metal housing that incorporates a strong cable retention design. Coaxial and 16 gauge contacts are precision formed and gold plated to prevent degeneration of signals. Cables are safely enclosed in a nylon mesh jacket to prevent damage from tangling.

About Wireworks

Now celebrating its 35th Anniversary, Wireworks Corporation is the pioneer in professional audio/video cabling products. Headquartered in Hillside, NJ, Wireworks has established cabling standards that are still in use today. Wireworks manufactured the very first multi-channel audio cables and the first multi-pin interconnect system. The company also introduced the first colored microphone cables, the first mixed audio/video multi-pin interconnect system, and the first and only multi-pin connector system that can accommodate audio, video, data, and control signals in a simple, easy-to-use connector.

From Broadway to broadcast, theatres, auditoriums, arenas, corporate boardrooms, operating rooms and houses of worship installations, Wireworks remains the leader in audio/video cabling systems, microphone splitters and interface panels, continuing to set standards through its inventive products. Wireworks takes pride in its innovative designs and its personalized customer service.

For more information, visit www.wireworks.com or call 1-800-642-9473.

CONTACT:
Gerald Krulewicz
Wireworks Corporation
380 Hillside Avenue
Hillside, NJ 07205
Tel: 908-686-7400
Fax: 908-686-0483
krulewicz@wireworks.com

More from Construction Equipment and Supplies