Miscellaneous Fabrics and Cloths
Multilayered Aluminized Fabrics enhance protective apparel.
Press Release Summary: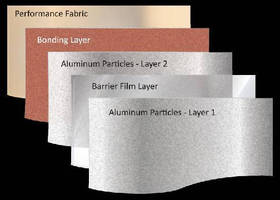 Aluminized fabrics in Z-Flex(TM) MLA(TM) series is used for protective apparel worn by manufacturers of radiant heat resistant systems. MLA(TM) process incorporates 5-layer protective barrier and bonding system that delivers radiant reflectivity as well as moisture and vapor protection in addition to performance features offered by substrate fabrics, which include Zetex texturized fiberglass, fine filament E-glass fabrics, Lenzing FR® Rayon, DuPont Nomex® and Kevlar®, PBI, and O-PAN/Para-Aramid blends.
---
Original Press Release:

Newtex Industries Introduces Z-Flex



Victor, NY - October 20, 2009 - After three years of development with leading thin-film technologists, Newtex Industries, Inc. is proud to introduce Z-Flex(TM), a technically advanced line of aluminized fabrics featuring a proprietary MLA(TM) process. Manufacturers of "Radiant Heat Resistant" systems for personal protective apparel and equipment can now make a superior choice with Z-Flex.

"We are excited about the level of performance we've been able to achieve", said Doug Bailey, VP of Sales and Business Development. "Our goal was to match the performance of the market leaders. All the testing data indicates that we have exceeded that goal with Z-Flex MLA process".

The Z-Flex MLA proprietary process incorporates a five-layer protective barrier and bonding system that delivers unsurpassed radiant reflectivity, superior moisture and vapor protection, as well as outstanding flex bonding in addition to the performance features offered by the application of optimized substrate fabrics.

In the rigid 3000°F radiant heat testing, 1000 cycle wet-flex testing, and both iron and aluminum molten metal splash testing, Z-Flex MLA Fabrics surpassed and outperformed the competition. After extensive internal testing, independent certified lab testing, and continuous field evaluations, Newtex is certain that Z-Flex will provide its customers with the quality, consistency, and performance required - making it the right choice for any application.

Newtex Technical Manager, Laura Pritchard said, "The test process was comprehensive. The MLA process has multiple key performance variables. As we optimized each feature, we ensured all performance variables were improved or remained unchanged. We are very pleased with the end result".

The highly versatile Z-Flex MLA process allows Newtex to couple this technology with a wide range of leading high performance technical fabrics including Zetex texturized fiberglass, fine filament E-glass fabrics, Lenzing FR® Rayon, DuPont Nomex® and Kevlar®, PBI, and O-PAN/Para-Aramid blends. Additionally, Newtex offers its customers custom lamination of proprietary fabrics.

For more information about this release, or to obtain Newtex Z-Flex product samples, technical information, or pricing, please visit our website at newtex.com, contact our product specialists at 800-836-1001, or e-mail sales@newtex.com.

About Newtex:

As the most trusted name in the industry for over 30 years, Newtex is the pioneer and leading global producer of high temperature textiles for thermal management and fire protection. Our comprehensive product line includes the original Zetex® and ZetexPlus® brand names, as well as heat and fire resistant fabrics, insulation fabrics, tapes, ropes, and tubings, which support a broad range of applications that include fire safety, heat shielding, welding protection, insulation systems, expansion joints, and gasketing.

More from Agricultural & Farming Products