Multifunctional Interferometer analyzes thick and thin films.
Press Release Summary: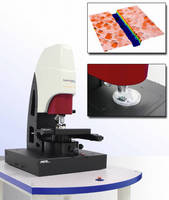 Developed to photovoltaic and semiconductor application requirements, Talysurf CCI SunStar merges non-contact dimensional measurement capability with thin and thick film analysis technology. Coherence correlation interferometer, with one measurement, can obtain information on film thickness (5 µm to 300 nm or less), interface roughness, pinhole defects, and de-lamination. Auto-range and auto-fringe-find functions, 4-million-pixel camera, and closed-loop Z scanning mechanism are standard.
---
Original Press Release:

Taylor Hobson Launches Talysurf CCI Sunstar



WEST CHICAGO, IL- Taylor Hobson, a global leader in ultra-precision measurement instrumentation, has introduced the Talysurf CCI SunStar coherence correlation interferometer that merges world-leading non-contact dimensional measurement capability with advanced thin and thick film analysis technology. The CCI SunStar was developed to specifically meet the requirements of the most demanding photovoltaic and semiconductor applications.

The CCI SunStar seamlessly integrates the latest thin-film analysis technology with dimensional and roughness measurement and analysis tools making it possible to measure film thickness from 5µm down to 300nm or less. From a single measurement, the CCI SunStar is able to obtain information on film thickness, interface roughness, pinhole defects and de-lamination of thin-coated surfaces. Among its unique features are a four-million-pixel camera for high-resolution imaging over a large area, auto-range and auto-fringe-find for ease of use, single mode of operation over all scan ranges, and a stable and robust closed-loop Z scanning mechanism.

The CCI SunStar is particularly well suited for metrology tasks related to the design and manufacture of advanced photovoltaic solar cells, whether those cells are first-, second- or third- generation designs. It is ideal for measuring the depth of scribe lines and surface texture of crystalline silicon solar cells. With its ability to measure surface roughness and trench depth, the CCI SunStar makes process control both faster and more cost effective.

The CCi SunStar also is ideal for the study and development of new solar cell materials and structures used in second- and third-generation thin-film solar cells. The high z resolution of the SunStar's coherence correlation interferometry technique is ideal for measuring film thicknesses greater than 1 to 2 µm but less than 20 µm.

For more difficult to measure thinner films, proprietary software allows the CCI SunStar to accurately measure thicknesses down to 300 nm or less, depending on the optical properties of the film. The solar cell substrates it can measure accurately include cadmium telluride (CdTe), copper gallium diselenide (CIGS), indium tin oxide (ITO) and titanium dioxide (TiO2).

Taylor Hobson is an ultra-precision technology company operating at the highest levels of accuracy within the field of surface and form metrology, providing contact and non-contact measurement solutions for the most demanding industrial and research applications. It is a unit of AMETEK, Inc, a leading global manufacturer of electronic instruments and electromechanical devices with annual sales of more than $2.1 billion.

For more information on Taylor Hobson's complete line of ultra-precision measurement instruments, contact Taylor Hobson, 1725 Western Drive, West Chicago, IL 60185, USA. Tel: 630-621-3099. Fax: 630-231-1739. E-mail: sales@taylorhobson.us Website: www.taylor-hobson.com

Related