Multifunction Timers use solid state relay technology.
Press Release Summary: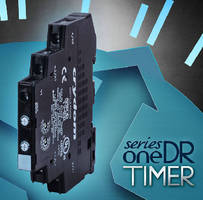 Housed in 11 mm wide DIN rail mounted package, SeriesOne DR Timers provide 8 microprocessor-based timing functions with 18 possible variations. Basic timing function selection is user settable via screw slot rotary switches on side of timers, while unit and fine timing adjustments are made on front panel. Designed for direct control of resistive and inductive loads, series is available with solid state output ratings of either 6 A/24–280 Vac or 6 A/1–60 Vdc, both at 40°C ambient temperature.
---
Original Press Release:

Crydom Introduces New 11mm Compact 6 amp High Power SeriesOne DR Timer DIN Rail Mounted AC & DC Output Solid State Multifunction Timers



Crydom's proprietary thermal management technology and proven Solid State Relay expertise are now combined with advanced uP based timing in the new "SeriesOne DR" Timer line offering models with exceptional Solid State output ratings of either 6 amp AC and DC and 8 different precision timing functions with 18 variations in a compact 11mm wide DIN Rail mounted package designed for the direct control of a wide variety of resistive and inductive loads .



Crydom's renowned Solid State Relay technology is now available combined with 8 different Microprocessor based timing functions including a total of 18 possible timing variations.  Ideal for use in control panels for direct control of contactors, solenoids, motors, heaters, lights, etc. The SeriesOne DR Timer series is available with either 6 amp/24 to 280 VAC output rating or 6 amp/1 to 60 VDC output rating, both at 40°C ambient temperature…. ratings well in excess of most Solid State Output Timers in the market today, therefore allowing direct control of many loads thus eliminating the need for interfacing power relays often required for use with lower power timers.



Available timing functions include "A" & "At" delay on make,  "B" single shot, "C" delay on break, "H" & "Ht" interval, "L" & "Li" repeat cycle, and "U" multifunction that includes A, At, Ac, B,  Bw,  C,  D,  Di,  H,  and  Ht  functions.  Basic timing function selection is user settable via screw slot rotary switches on the side of the SeriesOne DR Timers, while unit and fine timing adjustments are made on the front panel of the Timers.  This arrangement provides easy access to Technicians for simple timing adjustments but significantly reduces accidental changes to the basic function.



Control for the SeriesOne DR Timers, depending on model, is 12 to 24 VAC/DC for all models, with options of either 90 to 140 VAC or 180 to 240 VAC for AC outputs only.  All Crydom SeriesOne DR Timers are UL listed and cUL recognized, UL Motor Control rated, RoHS and China RoHS compliant, and CE certified to the Low Voltage and EMC Directives.



For additional information about SeriesOne DR Timers contact the nearest Crydom Distributor, Representative or local Crydom Sales office, or visit our website at crydom.com.



About Crydom

Crydom, Inc., a brand of Custom Sensors & Technologies, is an expert in Solid State Relay and Controls Technology. Crydom manufactures and commercializes two of the most preferred brands of Solid State Relays around the world; Crydom and Crouzet. Crydom offers a wide variety of off-the-shelf Solid State Relays and Contactors, I/O Modules & mounting boards, Controls and Power Modules, and specializes in custom designed solid state switching solutions for any application. At Crydom, technology and innovation combine to exceed our Customer's most demanding performance requirements.



About Custom Sensors & Technologies

Custom Sensors & Technologies (CST) is a specialist in sensing, control and motion products. Through its brands, BEI Kimco, BEI Sensors, BEI PSSC, Crouzet, Crydom, Kavlico, Newall and Systron Donner Inertial, CST offers customizable, reliable and efficient components for mission-critical systems in Aerospace & Defense, Transportation, Energy & Infrastructures, Commercial & Industrial OEMs, Medical, Food and Beverage and Building Equipment markets. Focused on premium value offers and committed to excellence, CST, with 4,700 employees worldwide and sales of $660M US in 2011, is the dependable and adaptable partner for the most demanding customers.

cstsensors.com

.

For additional information, please contact:

Gabriela Miranda

+1(619) 210-1556

gabriela.miranda@crydom.com

Crydom Inc.

2320 Paseo de las Americas, Suite 201

San Diego, CA, 92154 USA

Tel: (877) 502 5500

Fax: (619) 210 1590

sales@crydom.com



Crydom SSR Limited

Arena Business Centre, Holyrood Close, Poole

Dorset, BH17 7FJ, United Kingdom

Tel: +44 1202 606030

Fax: +44 1202 606035

sales-europe@crydom.com



Copyright © 2012 Crydom Inc., All rights reserved.

www.crydom.com

www.crouzet-ssr.com

More from Construction Equipment and Supplies