Multifunction Thermometer measures barometer/dew point/RH.
Press Release Summary: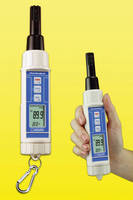 Available in rugged ABS plastic case measuring 1½ in. dia x 8 in., Traceable® hygrometer/thermometer/barometer/dew point pen has user selectable dual display that shows humidity/temperature, humidity/dew point, barometer/temperature, or barometer/humidity. Features include electronic capacitance polymer film sensor, HOLD button that freezes reading on display, and 3/8 in. high LCD digits. Product can recall minimum/maximum readings on press of button.
---
Original Press Release:

Traceable® Hygrometer/Thermometer/Barometer/Dew Point Pen



Control Company's new Traceable® Hygrometer/Thermometer/Barometer/Dew Point Pen's relative humidity range is 10.0 to 95.0% RH with a resolution of 0.1% and an accuracy of ±3% RH mid-range to ±4% RH elsewhere. Temperature range is 32.0 to 122.0°F and 0.0 to 50.0°C with a resolution of 0.1° and an accuracy of ±1°C. Dew point range is 13.5 to 120.1°F and -25.3 to 48.9°C with a resolution of 0.01°.

Barometer measures pressure in 3 different units: Inches of mercury (inHg) from 0.29 to 32.48 with a resolution of 0.01, millibars (hPa) from 10.0 to 1100 with a resolution of 0.1 and 1 hPa, and millimeters of mercury (mmHg) from 7.5 to 825.0 with a resolution of 0.1 mmHg. Accuracy is ±4 hPa. User selectable dual display shows humidity/temperature, humidity/dew point, barometer/temperature, or barometer/humidity.

Compact design features an electronic capacitance polymer film sensor not affected by condensation. Tough ABS plastic housing and water-resistant design with o-ring seal and membrane keypad assures a long life in severe lab or harsh plant environments. HOLD button freezes the reading on the display. High contrast 3/8-inch-high LCD digits are easy to read. At the press of a button, unit recalls minimum/maximum readings.

To assure accuracy an individually serial-numbered Traceable® Certificate is provided from an ISO 17025 calibration laboratory accredited by A2LA. It indicates traceability to standards provided by NIST (National Institute of Standards and Technology).

Rugged ABS plastic case is 1-½ inch diameter x 8 inches; weight is 5 ounces.

CONTROL COMPANY IS ISO 9001 QUALITY CERTIFIED by DNV.
CONTROL COMPANY IS ISO 17025 CALIBRATION LABORATORY ACCREDITED by A2LA.

Applications

o Laboratories
o Industrial Plants
o Government Institutions
o Medical Facilities
o Pharmaceutical
o Testing & Measurement
o R & D
o Environmental
o Manufacturing
o Engineering
o Pollution Control
o Chemical Processing
o Food
o Flow
o HVAC
o Petroleum


Related