Multicyl - The Power Source for Modular Tooling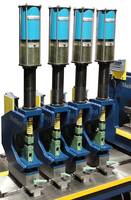 Multicyl is the best power source in the Industry for unitized or modular tooling such as Unipunch. Simple, cost effective, and requiring only air to operate, Multicyl cylinders have been powering Unipunch hole punching stations for over 30 years. Recently we have expanded our capabilities and at Multicyl we have a full working knowledge of the Unipunch catalogue and now have power solutions for the full range of products including units in the A, B, FCU, HZ, AE series and more. Our cages are designed for plug and play use with the tools and our team can provide you with a system for your existing tools or a complete turn-key system including tooling.
Visit www.multicyl.com/products/unitized-tooling or email info@multicyl.com
MULTICYL INC.
640 Hardwick Rd. #1 Bolton, ON L7E 5R1
905-951-0670
US 1-800-388-6359
More from Fluid & Gas Flow Equipment