Multichannel Potentiostat provides 1 MS/s sampling rate.
Press Release Summary: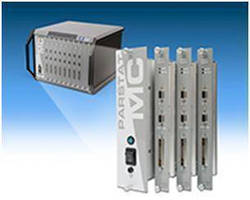 Installed into PMC CHS08A chassis and driven by VersaStudio software, PMC-2000 Channel adds capabilities to PARSTAT MC family of modular potentiostats, providing additional voltage measurement 6-wire capabilities, EIS accuracy to 7 MHz, 30 V Compliance and Polarization, and 1 A of current. Hot-swappable channels permit researchers to add or remove channel without interruption while running experiment. With data acquisition speed of 1 µs, unit is suited for high-speed applications.
---
Original Press Release:

New PMC-2000 Channel Broadens Capabilities and Performance of Princeton Applied Reseach's Parstat MC Potentiostat



Oak Ridge, TN — Princeton Applied Research of AMETEK Advanced Measurement Technology (AMT) has added to the capabilities of its PARSTAT MC family of modular potentiostats with the addition of the PMC-2000 channel.



The PMC-2000 channel offers a new level of performance with industry-leading standard voltage control and current measurement.  This latest evolution in the PARSTAT MC family further demonstrates how Princeton Applied Research partners with its end users to continually provide industry-leading solutions.



The PMC-2000 installs into the intelligently designed PMC CHS08A chassis and is driven by the user-friendly and highly flexible VersaStudio software.  The modular and robust multi-channel PARSTAT MC potentiostat offers a host of features and benefits that build on Princeton Applied Research's 50+-year reputation for industry leadership.



The PMC-2000 brings to the PARSTAT family additional voltage measurement "6-wire" capabilities; EIS accuracy to 7 MHz, 30 Volts Compliance and Polarization, 1-Amp of current standard, 1 MegaSample/sec.



"The potentiostat's modular design allows for increased performance and reliability over other multi-channel instruments," notes Joseph McCabe, Business Element Manager for AMETEK Advanced Measurement Technology.  "The highly versatile PARSTAT MC boasts hot-swappable channels that permit researchers to add or remove a channel without interruption while running experiments, which would normally result in a loss of associated data." 



The PARSTAT MC potentiostat family offers tailored solutions for a variety of applications, including the testing of energy storage devices, such as batteries, capacitors and fuel cells; corrosion analysis; and physical electrochemistry.  It features the highest voltage polarization up to 30 Volts and widest dynamic current range of up to 2 Amps to 4 nA (120 fA resolution) as standard, eliminating the need for costly hardware add-ons that reduce channel capacity. 



The PARSTAT MC's data acquisition speed (PMC-2000 as 1 microsecond and PMC-1000 as 2-microsecond) makes it suitable for high-speed applications.  Its true floating ground makes testing of multiple samples in the same cell possible and permits researchers the ability to measure permanently grounded samples.  The availability of easily integrated accessories affords researchers the option of creating a highly customized research tool.



The PARSTAT MC chassis is highly configurable with up to eight potentiostats.  Each potentiostat card provides wide functionality as standard. Each channel can operate simultaneously for high-throughput routines, asynchronously for different experiments on distinct cells, or in a complex matrix of multiple electrodes in a single-test environment.



Users can add additional channels on site, even while other channels are in operation.  Every component within the chassis is user replaceable, minimizing the impact of interruptions on ends.



For specific applications information, users can email pari.info@ametek.com or visit princetonappliedresearch.com.  For more Information on the PARSTAT MC, contact Rob Sides at (865) 483-2103 or by e-mail at rob.sides@ametek.com.



The Princeton Applied Research business of AMETEK Scientific Instruments is a unit of AMETEK Advanced Technologies (AMT), a division of AMETEK, Inc., a leading global manufacturer of electronic instruments and electromechanical devices.

More from Electronic Components & Devices