Multichannel Circuit Breakers for CID2 Use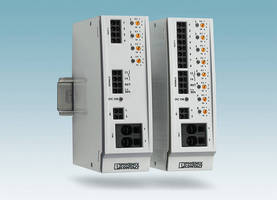 Middletown, Pa. – The CBM (circuit breaker multichannel) from Phoenix Contact has received Class I, Division 2 approval. This approval makes the CBM suitable for use in hazardous locations such as oil refineries, offshore platforms, and wastewater treatment facilities. The CBM is a programmable circuit breaker that can manage multiple circuits in a single, compact device.



The CBM is available in four- and eight-channel versions, so it can manage up to eight circuits. Each channel has multiple nominal current ratings from 0.5 – 10 A, with an LED status indication that lets users monitor the trip status of each circuit-breaker channel. The CBM measures just 41 mm wide, so it occupies minimal DIN rail space.



The CBM makes it quick and easy to adjust nominal current trip level of the circuit breaker. After hooking the breaker up to the appropriate loads and turning the adjustment dial to the maximum level of 10 A, the user slowly decreases the current by one increment at a time. When the LED for the channel begins to flash yellow, the user increases the current level by one increment. This rated current assist improves installation and system design, and prevents nuisance tripping. It also allows for more efficient use of power supplies, reduces downtime due to voltage drops, and increases the lifetime of loads.



For added safety, the CBM has a cascaded channel start-up, with a 100-millisecond delay between each channel. This helps avoid inadvertent shutdowns. Additionally, each breaker channel has an electronic channel-locking function that prevents unwanted adjustments to a set nominal current.



The CBM's local and remote status indication makes monitoring and reset easy. It has a wide temperature range and high resistance to shock and vibration, making it suitable for many industries. Learn more at www.phoenixcontact.com/CBM.



About Phoenix Contact

Phoenix Contact develops and manufactures industrial electrical and electronic technology products that power, protect, connect and automate systems and equipment for a wide range of industries. Phoenix Contact GmbH Co. KG, Blomberg, Germany, operates 50 international subsidiaries, including Phoenix Contact USA in Middletown, Pa.



For more information about Phoenix Contact or its products, visit http://www.phoenixcontact.com or call technical service at 800-322-3225, e-mail info@phoenixcon.com.

More from Software