Multi-Valve System suits steam trap applications.
Press Release Summary: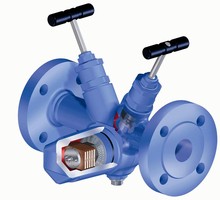 CONA All-in-One solution integrates steam trap, isolation valves, strainer, check valve and blowdown valve and requires just two pipe connections. Multi-valve system performs functions such as isolation, safety, control and steam trapping, and suits industrial applications including main line draining, steam distributing and tracing systems, as well as process industry.
---
Original Press Release:

ARI-Armaturen Solves It 'All-in-One' with CONA Compact Multi-Valve



15th July 2008, Tewkesbury - ARI-Armaturen, worldwide leaders in the manufacture and supply of process valves, has announced its next generation all-in-one steam trap solution that delivers cost efficiency, reliability and can reduce the number of pipe connections required by 80%. The CONA 'All-in-One' is a compact multi-valve system serving a wide range of industrial applications including main line draining, steam distributing and tracing systems, as well as the process industry.

The CONA 'All-in-One' solution integrates a steam trap, isolation valves, strainer, check valve and blowdown valve into one product, saving time and money. Conventional steam trap stations require a number of single components and screwed or welded connections can lead to leaking, as well as demanding a lot of space with a high financial outlay for assembly and installation.

"This new product offers our customers a complete solution in one, compact system," said Tony Harrison, operations manager at ARI-Armaturen. "A reduction in pipe connections and fittings from as many as twelve to just two, means that the system is significantly more efficient than a traditional steam trap station, and with a high discharge capacity the product is very powerful."

The multi-valve system performs a number of functions such as isolation, safety, control and steam trapping and is easy to install and maintain. The integrated system takes up less space than a traditional steam trap solution, and with ARI's established and reliable steam trap and valve technology the CONA 'All-in-One' provides exceptional performance.

"The All-in-One has already been received very well in our industry. The combination of multiple product features is the future for pipe and valve technology and the integrated system demonstrates how ARI is leading the way in new product design and development," Tony concluded.

About ARI-Armaturen

For more than 50 years ARI-Armaturen has been designing and manufacturing specialist valves used for isolating, securing, controlling and steam trapping across a wide range of industrial processes, from process engineering, chemicals, shipbuilding to building automation. Offering a one-stop solution for all valve requirements, customers can profit from the complete ARI range of butterfly valves, globe valves, control valves, safety valves, strainers/check valves, or steam traps. All designs undergo stringent in-house testing and the valves are renowned for their high operational safety and reliability based on leading-edge manufacturing technology. ARI-Armaturen offers speed, expertise and superior performance, based on the highest quality standards. The company boasts 10,000 products with more than 100,000 variants. For more information visit www.ari-armaturen.com or call 01684 275572.

Company Contact:

Tony Harrison

ARI-Armaturen UK Ltd., Energy House,

Shannon Place, Tewkesbury Business Park,

Tewkesbury, GLOS GL20 8SL

Tel: 01684 275752

Email: ach@uk.ari-armaturen.com

More from Controls & Controllers