Multi-Pyrometer System incorporates data logging abilities.
Press Release Summary: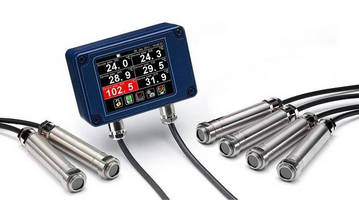 Wall-mountable touchscreen pyrometer hub, PM180, provides temperature measurement, configuration, and alarm display for up to 6 non-contact IR temperature sensors and logs data to MicroSD card. Calex sensors connect in daisy-chain via RS485 Modbus interface, and password-protected touchscreen interface allows full configuration of each sensor. Backlit display simultaneously shows all 6 measured temperatures, and background of each temperature turns bright red during alarm condition.
---
Original Press Release:

New Multi-Pyrometer System with Data Logging



The new PM180 touch screen pyrometer hub from Calex Electronics provides temperature measurement, configuration, alarm display and data logging for up to 6 non-contact infrared temperature sensors, and may be connected to other PM180 units as part of a larger system.



The Calex sensors are connected in a daisy-chain via the RS485 Modbus interface, and the password-protected touch screen interface of the PM180 allows full configuration of each sensor.



The bright, backlit display shows all six measured temperatures simultaneously, and the background of each temperature turns bright red in an alarm condition.



Optional output modules provide alarm relay and analogue (current or voltage) outputs. Each output may be individually configured via the touch screen.



Data is logged to a MicroSD Card in .csv format so it can be imported easily into spreadsheet software such as Excel.



Multiple PM180 units may be connected to a larger RS485 Modbus network using the isolated slave interface.



The wall-mountable touch screen unit is tested to industrial standards for electromagnetic compatibility. It is CE Marked and RoHS compliant.



The PM180 is compatible with all sensor models in the PyroBus series, as well as all Modbus models in the PyroMini series.



PM180 units and temperature sensors are available to order now.



For more information, please call Anthony Smith at Calex Electronics on +44 (0) 1525 373178, or email [email protected]