Multi-Purpose Compactor offers polygonal drum option.
Press Release Summary: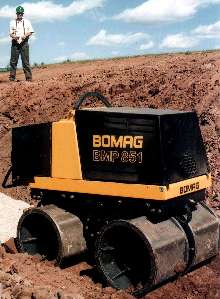 Independently driven BMP851 incorporates polygonal design, which eliminates need for scraper bars and reduces demand for engine horsepower, allowing extra power to be directed to travel and vibration circuits. Polygonal drums combine flat-surface plate compactor characteristics with drum-style compactor capabilities. Effective on granular and cohesive soil types, polygonal drums fit same bolt pattern as standard BMP851 drums and provide an overall working width of 33.5 in.
---
Original Press Release:
BOMAG Introduces Exclusive Polygonal Drum Option for BMP851 Multi-Purpose Compactor

KEWANEE, Ill. - To maximize compaction performance, BOMAG Light Equipment has introduced an exclusive polygonal drum option for its BMP851 multi-purpose compactor.

Engineered to increase both compaction performance and gradeability, the polygonal drums combine the benefits of a flat-surface plate compactor with the abilities of a drum-style compactor. The flat surfaces of the polygonal drums slap the ground as they travel, providing a larger area of contact similar to that found on plate-style units. At the same time, a high amount of pounds-per-lineal-inch (pli) is loaded onto the crowns of the drums, offering the benefits of a sheepsfoot-style drum compactor. This results in a considerable increase in overall compaction performance.

In addition, unlike plate compactors, the BMP851 is independently driven. The combination of the two technologies results in improved impact force with a higher degree of gradeability. Effective on both granular and cohesive soil types, the polygonal drums make the BMP851 a much more versatile compactor.

Designed to fit the same bolt pattern as standard BMP851 drums, the polygonal drums are easily installed following the removal of the scraper bars. Once attached, the polygonal drums provide an overall working width of 33.5 inches.

Because the polygonal design eliminates the need for scraper bars, engine horsepower demand is reduced. This allows extra power to be directed to travel and vibration circuits, further improving overall compactor performance.

For more information concerning the new polygonal drum design or the complete BOMAG Light Equipment product line, including vibratory tampers, single-direction and reversible vibratory plate compactors, trench compactors, single- and double-drum walk-behind vibratory rollers, and single-drum and tandem ride-on vibratory rollers, contact Compaction America, Inc., 2000 Kentville Road, Kewanee, IL 61443, call 309-853-3571, fax 309-853-1319, e-mail info.bomag@compactionamerica.spx.com or visit the BOMAG Web site at www.bomag-americas.com.
Related