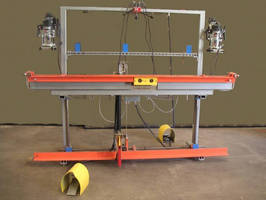 Doors are getting taller these days becoming much more impressive and attractive than their standard-size versions. But 8- or 10-foot doors are difficult to secure with standard locks.

Multi-point locks that latch into the doorframe at three points instead of one are the latest solution for homeowners who care about both style and security.

Not only do multi-point locks fasten your doors more solidly in place, they also keep the door from warping or settling unevenly, so when properly installed, a door with multi-point locks can keep out burglars and also resist the elements and prevent damage to the door and frame.

Your goal is to provide your customers with classy doors that won't let them down in the security department. And yes, trying to line up three bolts with the doorframe can make a door with multi-point locks a little harder to install - but once it's in, the benefits are well worth the effort.

Our goal is to provide you with a machine that can facilitate the manufacturing of high quality doors that will satisfy your customers.

Our Multi-point Lock Machine can handle a variety of lock manufacturers' products. The machine is simple in design, manufactured with the operator in mind and color coded to eliminate costly mistakes in processing the expensive exterior doors. Our machine is flexible in design and has the capabilities of processing the Door Slabs for the Multi-Point Lock mechanisms, precise alignment and machining of the Strike Jambs and or the T-Astrigals, (Wood, PVC, or Aluminum) for the Multiple Locking Points. This machine is also flexible and has the capabilities to process Hinge Jambs and Conventional Strike Jambs as well as Center Mull Post.

The Multi-Point Lock Machine allows our customers to add value to their product, there in turn increasing profits. We believe the time for a more secure front entry system is gaining in popularity as the country's security concerns heighten.


More from Agricultural & Farming Products