Multi-Pocket Filter entrains paint particles.
Press Release Summary: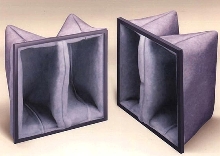 Deep Cube bag-type filters are 99% efficient and suitable for use in paint overspray systems. Expanded surface area entrains more particles than conventional single-layer polyester pads. Internal wire support, sewn into media, reinforces filtering structure and enables it to endure high airflow and heavy paint loading. Polyester overlap around support wire provides self-supporting, positive seal to eliminate bypass.
---
Original Press Release:
Deep Cube Pocket Filter

July 26, 2002. Chemco Manufacturing Co., a developer and manufacturer of all levels and efficiencies of paint filtration, has added a new series of multi-pocket filters to its product line.

These new, 99% efficient, bag-type filters are ideal for use in paint overspray systems, and offer high holding capacity and longevity. Their expanded surface area promotes the entrainment of more particles than conventional single-layer polyester pads. An internal wire support sewn into the media reinforces the filtering structure and enables it to endure high airflow and heavy paint loading. Polyester overlap around the support wire offers a self-supporting, positive seal to eliminate bypass. For even greater efficiency, a polyester or fiberglass pre-filter media can be incorporated into the filtration system. The additional filter layer serves as a first point of contact with paint and contributes to higher average pant removal and longer service life for the pocket filters. Chemco pocket filters are manufactured in 6 sizes, and can be provided in self-sealing or header types, with gaskets. They are UL Class 2; test information is available upon request. Like all Chemco products, they are offered on a risk-free, trial-order basis direct from Chemco.

Chemco Manufacturing Company, Inc. 3225 Commercial Avenue, Northbrook, IL. (800) 323-0431 or www.chemcomfg.net

More from Communication Systems & Equipment