Material Handling and Storage Bags
Multi-Layer Barrier Bag is moisture resistant.
Press Release Summary: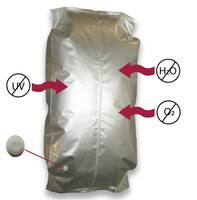 Multi-Layer Barrier Bag is available in 20 – 50 kg bag sizes. Unit offers resistance against humidity, oxygen, salt spray, aromas, grease and airborne contaminants. Product comes with an optional one-way degassing valve which helps user to discharge air from the bag. This 10-color customizable packaging bag is offered in composite materials such as high-density polyethylene, polyethylene terephthalate, aluminum, nylon and ethylene vinyl alcohol.
---
Original Press Release:
Conitex Sonoco® Launches New Barrier Bag Product Line
Multi-layer laminated film packaging provides puncture-resistant barrier against UV light, moisture and oxygen. Conitex Sonoco USA, Inc., a manufacturer and distributor of flexible intermediate bulk containers (FIBC) and other innovative packaging products, announces a new multi-layer barrier bag product line from their Flexible Products Division, BulkSak®.
Offered in 20 – 50 kg bag sizes, the high-quality, multi-layer barrier film bag provides up to 10-color customizable packaging and comes in a standard 25kg (55lb) size. The construction of the barrier bag provides puncture-resistant packaging against corrosive damage caused by humidity, moisture, oxygen, salt spray, aromas, grease and other airborne contaminants. In addition, an optional one-way degassing valve exhausts air from inside the bag to preserve freshness and maintain quality for products sensitive to oxygen.
"We see an opportunity to offer a competitive advantage to our customers and prospects with this new multi-layer barrier bag." explains David Monteith, VP Flexible Products Division at Conitex Sonoco. "When there is no compromise for quality, these barrier bags provide a means to maintain a brand's promise to their customer for a quality, delivered product."
This superior alternative to the multi-wall paper bag, offers a variety of customizable laminated film layers. Composite materials available for laminated coextrusion include high-density polyethylene (HDPE), polyethylene terephthalate (PET), aluminum (AL), nylon (PA), ethylene vinyl alcohol (EVOH) and others available upon request.
As with all of their packaging products, Conitex Sonoco offers engineering and technical support. Visit www.conitexbulksak.com for more information and to download our brochure, or call 1-704-833-1353 to speak with a customer service representative.
About Conitex Sonoco USA, Inc.
Conitex Sonoco USA, Inc. is the North American headquarters of Conitex Sonoco N.V., a joint venture of Texpack Group N.V. and Sonoco Products Company. Conitex Sonoco USA, Inc. is a manufacturer and distributor of a broad range of packaging products. The company is comprised of four major divisions which are Paper, Converting Products, Flexible Products and Adhesives. Conitex Sonoco's product offering includes coreboard, edge board, point of purchase (POP) displays, cones and tubes for yarn, plastic and corrugated pallets, FIBC bulk bags and bulk bag pallets, a full range of flexible packaging products, and coreboard /paperboard adhesive. In addition, the company offers production labeling machines, labels and supplies. Conitex Sonoco's major brands include BulkSak® flexible packaging products and Loadrunner® corrugated pallets. For more information, please visit www.conitex.com or call 1-704-864-5406.