Multi-Gas Analyzer measures trace oxygen.
Press Release Summary: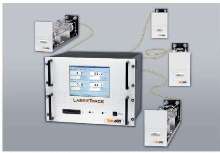 LaserTrace multi-point, multi-species, multi-gas analyzer incorporates oxygen module based on Cavity Ring-Down Spectroscopy technology. Capable of measuring trace oxygen to 500 parts-per-trillion, LaserTrace also detects species such as H
2
O, O
2
, CH
4
, H
2
, CO, NH
3
, H
2
S, and HF. It features plug-and-play operation, is calibration free, and can measure up to 4 sample gases.
---
Original Press Release:

Tiger Optics Introduces World's First Laser-Based Trace Oxygen Analyzer


Warrington, PA (March 2003) Tiger Optics is pleased to introduce an oxygen module for its new LaserTrace, multi- point, mulit-species, multi-gas analyzer. This is the first oxygen analyzer based on a powerful, emerging technology known as Cavity Ring-Down Spectroscopy (CRDS), capable of measuring trace oxygen down to 500 parts-per-trillion (ppt), providing a fast, accurate, and easy-to-use means to detect contaminants.

The LaserTrace is capable of detecting many species such as H2O, O2, CH4, H2, CO, NH3, H2S, and HF. The O2 module measures down to 200 parts-per-trillion (ppt), in milliseconds, with absolute accuracy. Its ability too detect oxygen derives from breakthrough, patent-pending technology.

It is calibration-free, transportable, and requires very little maintenance. Designed by experienced instrument engineers, the LaserTrace combines high technology with plug-and-play operation, very modest maintenance, and freedom from calibration, along with built-in capacity to measure up to four sample gases.

About Tiger Optics

Tiger Optics, LLC, headquartered in Warrington, PA is the leader in electro-optic technology, based on Cavity Ring-Down Spectroscopy. The company researches, engineers, and manufactures equipment for semiconductor fabrication, laboratory calibration, industrial process control, and environmental trace species detection. Tiger Optics offers complete sales and service support worldwide with 45 sales representatives spanning the United States, Europe, and Asia. For more information, visit www.tigeroptics.com

More from Laboratory and Research Supplies and Equipment