Multi Display & Panel New Finishing Capabilities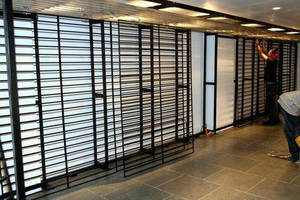 Multi Display & Panel now offers new finishing capabilities for our rug, poster, and custom displays and display systems. Since 1972 we have helped customers display their products with more impact, clarity, and creativity. We also carry a wide variety of standard display products from literature displays to poster displays, tradeshow displays, & more!

The "A" Frame Rug Display is our most popular item. This Display can be made to hang rugs, fabrics, and any other items you wish. This display can be fabricated to hang as many arms as needed and at any size and finished to your specs.

Our Straight Wall display can make the most of your square footage. This wall display unit allows you to hang rugs/fabrics or other products in areas with little or no floor space. This display can be made in any size and to hang any quantity of products than you need to show.

The Floor To Ceiling Rack Model 1 is an excellent way to maximize all available vertical display area. This unit is designed to for areas with non load bearing walls. This unit secures to the floor and ceiling creating an area for products to be displayed in a desirable and highly customizable manner.

We also manufacture and highly customizable and extensive line of Track System Displays. All of our Track Systems are made to order. All are custom and are made to fit. The aluminum tracks allow for easy mobility and high carrying weight. Clips are welded to each track wheel for easy hanging.

For more information on your display requirements in the continental United States, please visit our website at www.multidisplayandpanel.com , or contact our Display Design Consultant, Dan Weber, at 516-238-3199 for your free display consultation, analysis, and quote today. Don't forget to ask about our new finishing capabilities.


More from Thermal & Heating Equipment