Multi-Colored Switch indicates operating condition.
Press Release Summary: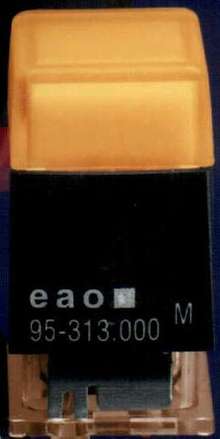 PCB-mounting Series 95 pushbutton can be illuminated with up to 3 different color LEDs. Able to change color when pressed, it maintains that color until pressed again. Available in 19 mm² versions and 12.7 mm versions, button's entire cap illuminates. Film insert can be inserted between diffuser and lens to mark function of each switch. Series 95 features noiseless switching action and tactile feedback. Life of product is rated to 5 million operations.
---
Original Press Release:

EAO Partners Ross Video to Create Advanced Interface


EAO, the expert in Human Machine Interface technology, is proud to announce the market success of it's ground-breaking Series 95, a multi-colored switch.

The PCB-mounting Series 95 pushbutton can be illuminated with up to three different color LEDs. It can change color when pressed and maintain this color until pressed again, making it ideal for showing the different operating status of equipment.

Developed for the broadcast industry, the Series 95 is ideal for customers who need to create sophisticated, intuitive interfaces that clearly indicate the changing status of equipment and are capable of multiple-function control. Canadian broadcast equipment manufacturer, Ross Video, is exactly this type of customer.

Ross Video builds high-quality video production switchers which showcase every great feature of the Series 95 switches The compact Synergy 100 control panel (see picture) uses over 80 Series 95 switches, both the 19mm sq version and the 12.7mm version, to control video switching and effects during a live production or when editing video.

The color of each pushbutton, and therefore the status of each function, is clear even from a side profile because the Series 95 cleverly illuminates the entire cap, not just the top This is a useful feature for a wide control panel because the operator can move away from the switch but still see the pushbutton's status.

A film insert can be inserted between the diffuser and the lens to mark the function of each switch. This meant it was easy for the OEM or end-customer to make legend changes, which allowed Ross Video's editing desk to be adapted by the customer,

Perfect for broadcast environments, the Series 95 features a noiseless switching action so as not to affect the purity of sound within an editing environment. The excellent tactile feedback also adds to the usability of the equipment. And with LED reliability, the Series 95 offers a service life of up to five million operations.

Although many switches are used in each control panel, the assembly was still relatively fast because the switches are snap-mounted to the PCB for easy flow-soldering; no positioning tool is required.

The overall height of the Series 95 is 24 mm maximum and features one N/O self-cleaning gold-plated switch element rated at a minimum 1m VDC/100 µA and maximum 48VDC/50 mA.

More from Electrical Equipment & Systems