Multi-Channel Temperature Monitoring on a Budget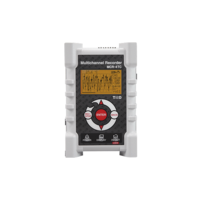 Interlocking Temperature Data Loggers Save Cost Need to monitor temperature at several points but don't want to spend a lot of money? CAS DataLoggers has the ideal solution -- the MCR-4TC Graphing Thermocouple Logger from TandD.
This 4-channel temperature data logger operates standalone on battery power and can couple with up to 3 additional units to allow for up to 16 synchronized channels. You can also simultaneously measure Voltage by coupling the unit with TandD's compatible MCR-4V Voltage Data Logger. A large-capacity internal memory and auto data export to SD card allow extended recording.
Applications Include:
Temperature management of refrigerated/frozen foods
Recording temperatures in pipes and ducts
HVAC system verification
Monitoring boiler temperatures
Recording temperature in hospitals
And more!
Multi-Channel Temperature Data Loggers
Many of our callers ask, 'How do I record temperature at multiple points?' TandD's MCR-4TC Graphing Temperature Data Logger can log temperature data on 4 channels. The logger supports thermocouple Type J,K,R,S & T providing for an extremely wide measurement range from -270°C to +1760°C (-454°F to 3200°F). The clear display indicates Measurements, Trend Graph, Battery Level, and more.
MCR-series data loggers are designed with an easy-to-use touch panel for configuration and setup. The trend graphing feature lets users check data in real time on the logger's LCD display while in the field. Users can quickly transfer recorded temperature data to a PC using the logger's USB connection, or with an optional SD Flash Memory card.
Users can select between Immediate or Programmed Start and choose to record in °C or °F. The data logger is battery-operated on 2 AA Alkaline Batteries so users can measure and record even when electricity is unavailable.
Need to Measure Voltage Too?
TandD's flexible design also enables the MCR-4TC to couple together with the MCR-4V Voltage logger, allowing users to simultaneously record Temperature and Voltage on up to 16 channels.
Free Graphing Software
T&D Graph software is included with MCR series loggers and allows users to read large numbers of recorded data files in the same graph. Users can also view, save and merge data in many different ways. With T&D Graph, users can also apply new features such as inserting shapes and posting comments and/or memos on the displayed graph.
You can also use the free TandD WebStorage Service to directly store and download recorded data, which is a great way to stay connected to your data from any location with Internet access.
For more information on TandD products including the Voltage Graphing Logger, the Thermocouple Graphing Logger, and more, contact a CAS DataLoggers Application Specialist at (800) 956-4437 or visit our website at www.DataLoggerInc.com.
Contact:
Stew Thompson
Marketing Specialist
CAS DataLoggers
8437 Mayfield Rd. Chesterland 
OH 44026 1860
Phone: 440-729-2570
Email: sthompson@dataloggerinc.com
Contact This Company Download Spec Sheet
More from Software