Multi-Band Antennas serve small cell and outdoor DAS applications.
Press Release Summary: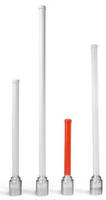 Comprising dual-, triple-, and quad-band models, EXTENT™ Omni Whip antennas are PIM certified (<-150 dBc @ 2 x 43 dbm) to provide optimal LTE performance and suit such deployments as small cell installations and outdoor distributed antenna systems (DAS). Functionality supports need for precision coverage in urban areas, and several frequency coverage options are available: 698–740, 740–793, 793–894, 894–960, 1,710–1,910, 1,910–2,180, 2,305–2,360, and 2,360–2,700.
---
Original Press Release:

Galtronics Unveils New EXTENT(TM) Omni Whip Product Line Developed for Small Cells and Outdoor DAS



BARCELONA, Spain -- Galtronics Corporation Ltd., a Baylin Technologies (TSX:BYL) company, is launching the latest additions to its award-winning EXTENT™ antenna line at Mobile World Congress. The new Omni Whip antennas are designed for deployment in small cell installations and outdoor distributed antenna systems. They are on public display for the first time in Galtronics' Booth 6B60 at MWC this week.



The new EXTENT™ Omni Whip antenna product line includes dual-band, triple-band and quad-band models and support a wide range of frequencies. They are PIM certified to provide the best support for excellent LTE performance, with every port tested prior to shipment.



"Our new line of Extent™ whip antennas is another example for a Galtronics solution for trends in the markets with increasing demand," said Ephraim Ulmer, President and CEO of Galtronics. "This line was developed to support the growing need for precision coverage especially in urban areas. We in Galtronics are investing in new and leading technologies to address our customer's needs."



Features of the EXTENT™ Omni Whip antenna line include:

--  Full frequency coverage of: 698-740 / 740-793 /793-894 /894-960 /1710-1910/ 1910-2180/ 2305-2360 / 2360-2700

--  Multiple paint color options for the antenna radome, to address site aesthetics

--  Guaranteed PIM certification (< -150 dBc @ 2x43 dbm)



For more information and to see the antennas firsthand, visit Galtronics in Booth 6B60 at Mobile World Congress.



About Galtronics

Galtronics Corporation Ltd., a Baylin Technologies (TSX: BYL) Company, is a global company providing innovative antenna and communications solutions of the highest quality and design. Headquartered in Tiberias, Israel, with locations in North America, Europe and the Far East, Galtronics has state-of-the art design centers around the globe as well as world class manufacturing facilities in China and Vietnam. The company offers custom and off-the-shelf antenna solutions from concept and design to production and delivery of products for the world's leading wireless organizations. Since our establishment in 1978, our business has grown into an international platform with operations in North America and Asia. www.galtronics.com



About Baylin Technologies

Headquartered in Toronto, Baylin (TSX: BYL) is a global technology company in the wireless space with 35 years of experience in designing products and supplying innovative antennas. We strive to meet customer needs by being a trusted partner from initial design to production. Our antennas have become industry benchmark with an extensive portfolio of leading edge off-the-shelf antenna products as well as custom engineered solutions to meet the specifications of our customers in the mobile, broadband, and wireless infrastructure markets. www.baylintech.com



Media contact:

Liron Ramot

Galtronics Marketing

Liron.ramot@galtronics.com

More from Controls & Controllers