Multi-Axis Laser System offers 2D and 3D cutting.
Press Release Summary: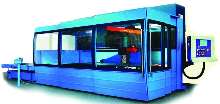 Available with 2,500, 3,000, or 4,000 W CO2 laser resonator, DOMINO cuts flat or shaped parts and performs bevel cutting. Cantilever designed 5-axis system has X-Y-Z working capacity of 120 x 60 x 15 in. Laser head also does 2 rotations: 360° continuous and ±135°. CNC focal axis employs capacitance sensor that maintains standoff distance from work surface while adapting to material and thickness. Magnetic breakaway system protects against crashes.
---
Original Press Release:

Versatile Multiaxis Laser System Offers Both 2D, 3D Cutting


CHICOPEE, MA (Aug 5, 2003) - PRIMA LASER TOOL'S new "DOMINO" Multiaxis Laser System combines two-dimensional and three-dimensional cutting capabilities in a single, cost-effective machine, providing application flexibility and economy. "Now one high performance machine can quickly cut flat parts, shaped parts or perform bevel cutting, significantly expanding manufacturing possibilities, especially for smaller shops seeking 3D processing" says Mr. Thomas Burdel, Vice President of Sales and Marketing for Prima Laser Tools.

The innovative, 5-axis system has a compact overall size due to its unique cantilever design. However, DOMINO has a large X-Y-Z working capacity of 120"x 60"x15" (3000x1500x370mm). In addition to these 3 axes, the laser head does two rotations: 360 degrees continuous and +/- 135 degrees. The DOMINO cuts anything from conventional 2D flat sheet work to complex 3 dimensional pieces at any head orientation with ease and high speed and high accuracy.

The optional CNC rotary axis provides fast, accurate tube cutting capability. Automated pallet changer, fully automatic material handling and storage unit options are also available, significantly reducing manual labor and enhancing productivity.

The DOMINO 5-axis machine features a unique CNC focal axis with a capacitance sensor that accurately and automatically maintains the standoff distance from the work surface while adapting to material and thickness accordingly. This eliminates manual operator intervention, facilitating unattended production runs.

The laser head also features a magnetic breakaway system that protects against crashes. In the event of an obstruction, the head safely releases and the machine can be operational again in minutes.

DOMINO's flying optics design with the fixed work piece guarantees higher processing speeds and better part accuracy. All machine elements are embedded in a single, easily transported block and no special foundation is required. The integrated cabin is fully enclosed for safety, and is also designed for maximum visibility and accessibility for part loading / unloading and maintenance.

DOMINO's laser resonator is integrated in the machine structure for stability and low maintenance. All axis movement and the entire cutting process are programmed / operated via The PRIMA-9000L, an intuitive CNC control station with touch-screen function and windows interface. DOMINO can also be programmed offline with 2D PICAM CAD/CAM or 3D PICUBE software.

The DOMINO system is available with a 2500W, 3000W or a 4000 W CO2 laser resonator. Positioning accuracy and repeatability is 0.001" (0.03mm) and the maximum positioning speed is 2783 in/min (70m/min).

PRIMA LASER TOOLS, a division of PRIMA North America Inc., has been an innovator of state-of-the-art systems for laser cutting of 2D and 3D parts, used in a broad range of industries worldwide since 1977. Lasers, machines, software and material handling systems are all designed, developed, made and serviced by PRIMA with the latest technology, providing users a single-source solution for quality laser cutting. PRIMA North America is headquarted in a new 68,000 s.f. facility located in Chicopee, MA USA. The new facility with its design, manufacturing, application, training and demo capabilities is designed to support the company's commitment to the North American Market.

For more information about The DOMINO Multiaxis Laser System and PRIMA LASER TOOLS, contact Mr. Thomas Burdel of PRIMA LASER TOOLS at 413-598-5200 or email tburdel@primalasertools.com. The new Prima address is 711 East Main Street, Chicopee MA 01020. Phone: 413-598-5200 Fax: 413-598-5201 Website: www.prima-na.com

More from Sensors, Monitors & Transducers