Position Sensors / Detectors / Transducers
MTS Sensors' High-Speed Position Feedback for Industrial Ethernet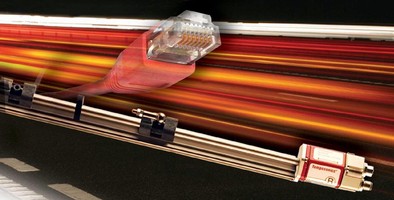 CARY, N.C. (March 11, 2008) - MTS Systems Corp., Sensors Division's Temposonics® R-Series EtherCAT® sensor, a high-speed networking solution based on industrial Ethernet technology, is providing the fastest rates of data transmission and communication in industrial settings where high-speeds are necessary for complete factory automation. The sensor is being used in environments as varied as injection molding machines, high speed presses, woodworking, and packaging, and has allowed machine builders to overcome bandwidth and node limitations found with other commercially available industrial networks.

"Our customers are seeing significant performance benefits when using the EtherCAT sensor because it enables high-speed data transfer between network devices and the controller, and it can also synchronize to accurate clock signals, enabling highspeed deterministic control," said Temposonics Marketing Manager, Matt Hankinson.

Because it is an open standard, EtherCAT is becoming one of the most popular choices for MTS customers employing large automation systems that require motion control. The R-Series EtherCAT sensor has been implemented in process control systems that see reaction times as fast as 100µs. In addition to facilitating shorter cycle times and high-speed network communications, EtherCAT enables processing data packets on the fly rather than requiring additional hardware.

The EtherCAT sensor is available for use with one to five position magnets depending on the particular network and can be customized to document position, velocity, acceleration, as well as customer-specific "smart" functionality. The position resolution is accurate to 1µm, speed to 0.2 mm/s (0.008 inch/sec) and a sensor update time of 100µs (independent of stroke). The R-Series EtherCAT sensor also includes a built-in nonlinearity correction option for position accuracy as low as +/- 0.02 mm (0.0008 inch).

Built-in diagnostic LEDs can indicate normal operation, programming mode, magnet not detected, missing external interface signals and insufficient or out-of-range input power. As with conventional PC network devices, additional LEDs indicate active network connections as well as Ethernet activity. The R-Series EtherCAT sensor comes standard with two integral communication line connections and a separate power supply input connection. These allow the designer flexibility to utilize standard stub line or "daisy chain" topology connections depending on their system layout.

Temposonics R-Series EtherCAT sensors are available in the model RH, ("rodstyle")
application housing, capable of hydraulic or pneumatic in-cylinder operation
(5,000 psi continuous/ 10,000 psi spike) and rated for IP 67 operation (IP 68 with integral cable) for stroke lengths up to 7.6 m (300 inch.). It is also available in the model RP ("profile-style") housing, convenient for mounting to machine surfaces via mounting brackets, and rated for IP 65 operation at stroke lengths up to 5 m (200 in.). Optional polyurethane cables are available in both configurations for increased flexibility and durability at extreme temperatures.

For more information on Temposonics Sensors, please contact: MTS Systems Corp, Sensors Division, 3001 Sheldon Drive, Cary, NC 27513. Phone: (919) 677-0100. E-mail: info@mtssensors.com or visit their web site at www.mtssensors.com.

MTS Sensors, a division of MTS Systems Corp., is the global leader in the
development and production of magnetostrictive linear-position and liquid-level sensors. Based on MTS' patented Temposonics® technology, the Sensors Division is continually developing new ways to apply magnetostrictive sensing technology to solve critical applications in a variety of markets worldwide. With facilities in the U.S., Germany and Japan, MTS Sensors Division is an ISO 9001 certified supplier committed to providing innovative sensing solutions that deliver customers with reliable, cost effective sensing devices. EtherCAT was developed by Beckhoff Automation and is supported by the EtherCAT Technology Group, of which MTS is a member.

More from Machinery & Machining Tools