Mr. Shrinkwrap Preserves Ashbridge House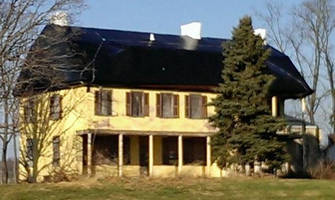 Exton, PA – Shrink technicians from Mr. ShrinkWrap completed installation of a custom roof cover on the Richard Ashbridge House on October 16, 2013.



With the assistance of two 60 foot man lifts and a crane, shrink technicians were able to secure the 300 pound custom reinforced shrink bag to the 3500 Sq. ft. roof. The custom bag covers 100% of the roof and provides an impermeable layer designed to stand up against the elements.



Steel cables and turnbuckles were used to secure the bag around the corners of the roof and waterproof heat shrink tape was applied to reinforce all seams and edges.



The Ashbridge house preservation project has been ongoing for several years. The custom cover will serve as a solution to the roof's state of disrepair until property officials decide how they want to move forward.



About Ashbridge House

The Ashbridge House was built in 1843 by Richard Ashbridge (Wolf and Snyder, 12). He was one of the grandsons of Richard Thomas, a welsh quaker, who was the first European settler in the area during the early 1700's. It is estimated that despite the current poor condition of the house, it was renovated in the mid 20th century.



About Mr. Shrinkwrap

Mr. Shrinkwrap Protective Services, Inc. (www.mrshrinkwrap.com) provide on-site shrink wrap services across the US and is a global distributor of shrink film, heat guns, shrink wrap tape, preservation tape, stretch wrap, self-adhering films, and shrink wrap supplies. Mr. Shrinkwrap provides a variety of commercial, industrial and residential shrink wrap applications.



Since 1991, Mr. Shrinkwrap has evolved from a local boat covering service to a thriving business with national scope. Mr. Shrinkwrap has been asked to provide shrink wrap services for objects ranging from outdoor furniture to nuclear power turbines.

More from Machinery & Machining Tools