MPI to Display Efficient, Eco-Friendly Equipment at IMTS 2010 Visit MPI Booth #E5833 to See What's New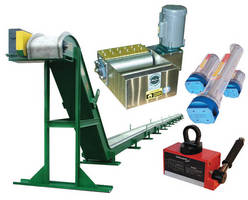 Highland, MI (June 3, 2010) -- Magnetic Products, Inc. (MPI), a worldwide provider of both magnetic and non-magnetic material handling solutions, will display a variety of inventive products while displaying at IMTS in Chicago from September 13 - 18, 2010.

Products to be featured in booth #E5833 include:

Magnetic Coolant Cleaner
MPI's new Magnetic Coolant Cleaner boasts a significant improvement in ferrous swarf capture rate as compared to other magnetic cleaners which typically capture much less. MPI's cleaner features an extremely durable stainless steel cleaning surface and will not wear out. Magnetic technology is green, and substantially reduces both the need to buy costly consumables and the associated downtime required to change paper filters.

Beltless Magnetic Conveyor (BLM)
MPI's Beltless Magnetic Conveyors (BLM), available in a variety of models, provide positive control of ferrous metal materials, such as stampings, turnings, chips, fasteners and scrap. Powerful permanent magnets are conveyed below a nonmagnetic stainless steel slider bed to move and convey ferrous metal objects. The liquid-tight sealed conveyor housing can be completely submerged in machine reservoir tanks while the internal self-adjusting take-up system eliminates the need for maintenance. BLM conveyors are offered with many design options and can also be supplied with other ancillary components, such as feeders, hoppers, etc., to provide a complete material handling system.

Micromag(TM) Magnetic Filter
The award-winning Micromag is a high-intensity magnetic filter which significantly improves filtration efficiency. It uses high-power neodymium Rare Earth magnets to remove ferrous and para-magnetic contamination from fluids and is particularly effective with machine tool oils, coolants and hydraulic fluid machinery systems. The eco-friendly Micromag does not use any filter consumables. Removed contamination can be recycled, eliminating disposal costs. High filtration efficiency means lubricants and coolants last longer. MPI's new Micromag(TM) cleaning tool can be used to easily remove tramp metal from the Micromag magnetic filter. Simply remove the core from the Micromag and slide the core though the cleaning tool. Tramp metal can be collected in a removable drawer for quick disposal.

Ultralift Plus(TM)
The Ultralift Plus(TM) is the world's safest magnetic lift and the only permanently magnetic lifting magnet equipped with a patented safety shim which allows pre-testing of any load to ensure a 3:1 safely factor. The unique lifting eye mechanism (patent pending) ensures that the lifting magnet cannot be switched off when it is holding a load. The Ultralift Plus is easy to use and won't mark the finish of the load. Hook to a hoist or a crane for lifting heavy or awkward objects.

For further information, contact MPI at 800-544-5930 or visit www.mpimagnet.com.

About Magnetic Products, Inc.:

Magnetic Products Inc. (MPI), based in southeastern Michigan, is a worldwide provider of both magnetic and non-magnetic material handling solutions. MPI leads the industry by continually engineering inventive magnetic equipment and advancing customer education, though significant investments in research and development and proactive product training. For nearly 30 years, MPI has implemented a business model that combines technologically superior equipment with industry-leading customer service. MPI interacts closely with its customers and expands its offerings to meet the changes of a dynamic marketplace. For further information, visit www.mpimagnet.com.


More from Cleaning Products & Equipment