MPI Magnets, Metal Detectors Handle Heavy Duty Applications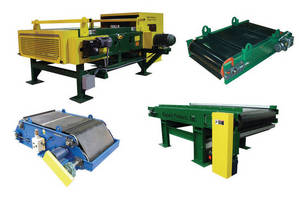 Highland, MI - Magnetic Products, Inc. (MPI), a worldwide provider of both magnetic and non-magnetic material handling solutions, will display a variety of inventive products at Waste Expo in Las Vegas, from May 1 - 3, 2011.

Products to be featured in booth #16201 include:

Eddy Current Separators

MPI's proven eddy current technology ensures higher separation rates. State-of-the-art system controls and features combined with technological advances result in improved nonferrous metal removal, particularly when trying to separate smaller particles such as aluminium and brass from non-conductive waste streams. As well as offering free in-house product testing for eddy current applications, MPI also builds eddy current rotors for customers who seek to upgrade their existing eddy current system performance or OEMs who brand their own material recycling facilities and system equipment.

Metal Detectors

MPI offers recyclers a complete line of metal detectors, including Cassel next-generation metal detectors which feature exclusive "Four Quadrant" technology. Built to withstand the severe application demands of the recycling industry while providing superior performance, MPI metal detectors protect processing equipment from damage and keep unwanted metals from contaminating final product.

Cross Belt Separator

MPI suspended permanent magnet and electromagnetic cross belt separators allow effective removal of unwanted tramp iron from heavy burden depths of material being conveyed on fast-moving conveyor belts. They are ideal for separating tramp metal from wet or dry, fine or coarse conveyed materials in large or small volumes. Safe and assured tramp iron extraction from product streams protects processing machinery, prevents fire or explosions caused by sparks, and improves product quality.

Magnetic Belt Feeder

MPI magnetic belt feeders (MBF) trap ferrous materials that would otherwise contaminate final products. The magnetic belt feeder, engineered to provide maximum elimination of metal contaminants, consists of a belted conveyor with an integrated magnetic head pulley. As product reaches the end of the feeder's conveyor, it passes through a magnetic field. Ferrous tramp metals adhere to the belt and are carried around the pulley toward the return side of the conveyor. Gravity causes clean, non-ferrous materials to exit and fall away from the MBF system.

For further information, contact MPI at 800-544-5930 or visit www.mpimagnet.com.

About Magnetic Products, Inc.:

Magnetic Products Inc. (MPI), based in southeastern Michigan, is a worldwide provider of both magnetic and non-magnetic material handling solutions. MPI leads the industry by continuously engineering inventive magnetic equipment and advancing customer education, though significant investments in research and development and proactive product training. For over 30 years, MPI has implemented a business model that combines technologically superior equipment with industry-leading customer service. MPI interacts closely with its customers and expands its offerings to meet the changes of a dynamic marketplace. For further information, visit www.mpimagnet.com.