MPE Grinding and Conveying: Complete System Solutions for Coffee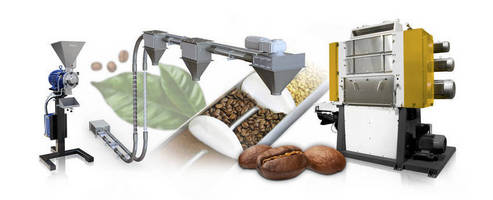 Modern Process Equipment Corporation (MPE, Chicago, IL) features its innovative engineering resources and equipment manufacturing capabilities to handle your complete coffee system requirements. Their powerful range of grinding equipment and reliable Chain-Vey conveyor also offer superior solutions for coffee producers worldwide.

With grinding capacities from 200 to 20,000 pounds per hour, and grind styles from Turkish to soluble, MPE has the ideal coffee grinder for every application.

Transfer your coffee product with the MPE Chain-Vey, the most gentle and efficient form of transportation offering maximum yields and zero degradation. With a dust-tight enclosed design, you can be confident your coffee product maintains its aromatics and is protected from the surrounding environment. Additionally, its flexible design and compact footprint are sure to fit virtually any configuration. The MPE Chain-Vey also features Clean-In-Place (CIP) capabilities with automated wash cycles for sanitary conveying needs.

For more information visit www.mpechicago.com or contact MPE directly at solution@mpechicago.com.

About MPE

Modern Process Equipment Corporation (MPE) is the world's leading manufacturer of precision particle reduction equipment. MPE has been supplying its customers with superior particle size reduction solutions for over fifty years, earning the reputation as the place to go to improve product yields and reduce the generation of unwanted fines. MPE aspires to design and manufacture the most modern, innovative and highest quality equipment with the most responsive, practical and timely service possible. For more information about MPE's complete line of equipment, contact Modern Process Equipment Corporation at 3125 South Kolin Avenue, Chicago, IL 60623, call 773-254-3929 or visit www.mpechicago.com.


Related