Moxa's ioLogik Active Ethernet I/O Receives Engineers' Choice Award from Control Engineering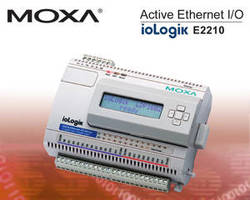 Moxa Technologies, a leading manufacturer of device networking products, received the Engineers' Choice Award for the ioLogik E2210 Active Ethernet I/O server. "As an award winner, [Moxa's ] product is among the most significant innovations of 2006," said Mark T. Hoske, Control Engineering's Editor in Chief. The winners are chosen by Control Engineering's engineer reader's group, which reflects broad recognition of the ioLogik E2210 from many different industrial automation fields.

Active Ethernet I/O provides PC-based data acquisition and control applications with a new method of transmitting real-time I/O data over an open network. Active Ethernet I/O is designed for Ethernet, and supports Modbus/TCP and SNMP protocols for use in both industrial automation and IT environments.

This new approach to Ethernet I/O was needed to address the prevalence of Ethernet in modern PC-based data acquisition and control (DA&C) systems, and the increasing demand for real-time I/O data. Moxa's engineers used their know-how and experience in data communication to develop the Active Ethernet I/O concept, and provide real-time I/O data transmission over an open network using easily-configured local logic control.

New Breed of Ethernet I/O for PC-based Automation

The traditional Ethernet I/O architecture uses Ethernet I/O servers attached to passive sensors. A host is required to poll the Ethernet I/O server in order to obtain I/O status information, and the repeated request-and-response communication over the network results in a slow response time. For clients looking to improve the operational efficiency of their DA&C systems, the need for active I/O messaging and a fast I/O response time cannot be met with a traditional Ethernet I/O structure.

Moxa's Active Ethernet I/O products give system integrators a new option that relies on conditionally triggered I/O status notification with customizable output messages and simultaneous local output control. Rather than simply waiting for a request for information, the Ethernet I/O server intelligently transmits data over the network only when certain customizable I/O conditions are met. Network and host resources are not expended by the continual polling of the server when I/O conditions remain within the customizable threshold. This makes network communication between the host computer and Ethernet I/O server concise and efficient, and data transmission is 20 times faster than with traditional SCADA systems (50 ms compared to 1 sec).

A key component of Active Ethernet I/O is the patent-pending Click&Go(TM) logic control, which is used to configure the Ethernet I/O server's local intelligence. Rather than laboriously programming in C or PLC-Ladder-Logic, the intuitive "If-Then" structure of Click&Go(TM) makes it easy for users to notify the server of what I/O conditions to watch for and what actions or events to trigger. Using Click&Go(TM), configuration of your Active Ethernet I/O system can be completed quickly and with no formal training.

Features

o Instant event reporting by TCP/UDP/e-mail/SNMP trap

o Easy local control without programming by patented Click&Go Logic

o Windows VB and Windows/WinCE/Linux C API

o Peer-to-Peer I/O without controller

Moxa currently offers two products that support Active Ethernet I/O
o ioLogik E2210 with 12 DI, 8 DO -
o ioLogik E2240 with 8 AI, 2 AO -

For more information about Moxa's award-winning Active Ethernet I/O servers, please visit www.moxa.com/Zones/Active_Ethernet_IO/index.htm or contact Moxa at [email protected].

About MOXA

MOXA manufactures device networking products for industrial automation. Information about all MOXA products, which include industrial embedded computers, industrial Ethernet switches, serial device servers, multiport serial cards, embedded device servers, and remote I/O servers, is available on MOXA's corporate website at www.moxa.com. You may also contact MOXA directly by email at [email protected], or by phoning +886 (2) 8919-1230.