Mountain Secure Systems Chosen to Provide Upgraded Digital Data Recorders for Lockheed Martin's Sniper ATP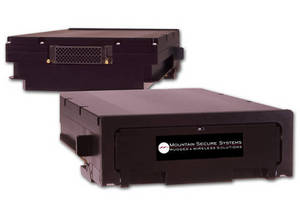 Mountain Secure Systems, Leading Supplier of Rugged Electronics Solutions to the Defense Industry, Chosen to Provide Upgraded Digital Data Recorders for Lockheed Martin's Sniper ATP

Longmont, Colorado - Mountain Secure Systems (MSS), a SDVOSB and leading supplier of rugged electronic solutions to the defense industry, announced today that it will provide upgraded digital data recorders (DDRs) to Lockheed Martin [NYSE:LMT] for its Sniper Advanced Targeting Pod (ATP). According to Lockheed Martin, the Sniper ATP is the most widely deployed targeting system for fixed-wing aircraft in use by the U.S. Air Force, and is the targeting system of choice for 14 international air forces.

Having provided the previous two generations of DDRs to the Sniper pod, MSS incorporated numerous upgrades and customizations to meet Lockheed Martin's program requirements on the new DDR, which adheres to all MIL-STD-810F standards. Features of the new DDR include unit removability, custom connectors, tool-less handles, pre-set secure erase functions and sealed enclosures to protect it from environmental elements like salt, fog, dust, humidity and fungus.

"As a Lockheed Martin Missiles and Fire Control 2010 Small Business of the Year Award recipient, we have a long-standing relationship with Lockheed, based on our ability to provide exceptional products and support," said Ken Dickson, General Manager at Mountain Secure Systems. "Our dedicated engineers and project coordinators worked very closely with the team at Lockheed to make sure all requirements were being met."

The new DDRs, part of a multi-million dollar contract, will be delivered to Lockheed in several installments in late 2012 and early 2013.

In addition to packaging solid state drives (SSDs), MSS, a subsidiary of Phillips Service Industries (PSI), offers ruggedized solutions for traditional hard drives, subsystem integration and commercial aircraft in-flight entertainment (IFE) systems. MSS also provides a wide range of outdoor wireless network solutions for video, voice and data applications.

To learn more about MSS, visit www.MountainSecureSystems.com. You can also follow MSS on Twitter at www.twitter.com/MtSecureSystems, as well as on Facebook at http://www.facebook.com/MountainSecureSystems.

More from Mechanical Power Transmission