Motorized Lead Screws offer resolutions from 0.00016-0.005 in.
Press Release Summary: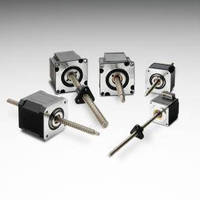 Combining hybrid stepper motor and lead screw in one unit, Motorized Lead Screws come in Rotating Screw and Rotating Nut motor configurations. NEMA frame sizes between 11 and 23 can be selected with various lead screws available in metric and imperial sizes. NEMA 23 variant delivers max axial thrust up to 200 lb. Where more load capacity is required, single and double stack configurations are available. Taper Lock technology enables quick connection/decoupling of lead screw and stepper motor.
---
Original Press Release:

New Thomson Motorized Lead Screw Range Offers More Thrust, Smaller Footprint and Easier Maintenance over Traditional Solutions



WOOD DALE, IL – Thomson Industries Inc., a leading manufacturer of mechanical motion control solutions, introduces its new range of Motorized Lead Screws. The precision engineered units combine a hybrid stepper motor and lead screw in one, compact envelope to provide clear advantages with a solution that is smaller, stronger, and more efficient than alternate technologies.



Through precision engineering, Thomson Motorized Lead Screws can offer up to 30% more load capacity than other comparable products, without increasing installation footprint. Optimized motor performance matched with ideal screw and nut design produces a higher performing product with reduced power consumption, low noise and longer battery life in a more compact solution. The more efficient motors used in the range are cooler running, so that greater torque can be generated using higher power input without overheating. The increased thrust provided in a small package size by this product range allows machine designers to reduce their machine footprint while achieving reliable, precision performance.



Traditional lead screws with direct couplings are permanently attached to the motor, making them difficult to replace and maintain. Thomson's innovative Taper Lock technology (patent pending) enables quick connection / decoupling of the lead screw and the stepper motor. The speed and ease of this connection means machines can be rapidly prototyped, maintenance time is reduced and spares inventory can be better optimized. Using Taper Lock also assures that the connection between the lead screw and motor is secure, robust and correctly aligned.



Thomson Motorized Lead Screws are available in two motor configurations: Rotating Screw (RS) and Rotating Nut (RN). They come in standard and high precision variants and have a wide range of standard options to give designers flexibility and ensure a close match to the application. NEMA frame sizes between 11 and 23 can be selected with various lead screws available in metric and imperial sizes. Stepper resolutions range from 0.00016 inches (0.00398mm) to 0.005 inches (0.127 mm) and the NEMA 23 variant delivers a maximum axial thrust of up to 200 lbs (890 N). Single and double stack configurations are also available where more load capacity is required. As with other products, Thomson offers an efficient customization service for the Motorized Lead Screws to meet exact customer needs if required.



Motorized Lead Screws are ideal for a wide variety of linear motion applications where precision, reliability and greater design flexibility are advantageous. Unlike traditional stepper motor and lead screw configurations, the units eliminate the drive coupling and an external bearing support. The resulting compact product envelope offers engineers a much smaller footprint to integrate into their designs.



The simpler design of the Thomson Motorized Lead Screw also means it has a reduced number of components compared with other solutions. Their design decreases overall machine complexity reduces assembly time and offers a longer stroke length than traditional solutions. Combined with the benefit of easily connected, self-aligning assembly and straightforward decoupling of components for easy installation and maintenance, they ensure a simple, reliable solution.



The quiet, smooth and clean operation of the Thomson Motorized Lead Screws adds benefit in many industries, particular in the medical market where these attributes are of particular importance. The Rotating Screw (RS) lead screw is ideal in applications that require precise linear motion with external supports, such as medical devices and 3D printers. The Rotating Nut (RN) lead screw serves application that also require precise linear motion but that have integrated anti-rotation. Examples here include medical pumps, HVAC control valves, pipetting machines and CNC applications.



The flexibility, easy installation and performance this new range offers gives real value and benefit to machine builders. Thomson provides expert, global support along with comprehensive online tools to help simplify the product selection process and optimize your design solution. For more information on this exciting new range of motorized lead screws, please visit http://www.thomsonlinear.com/motorized.



About Thomson

With more than 70 years of motion control innovation and quality, Thomson Industries, Inc. is the industry's premier producer of Linear Ball Bushing® Bearings and Profile Rail Bearings, 60 Case® Shafting, ground and Ball and Lead Screws, Linear Actuators, Gearheads, Clutches, Brakes, Linear Systems, and related accessories. Thomson invented the Linear Ball Bushing Bearing in 1945, and has set the standard ever since with an unsurpassed set of mechanical motion control solutions serving global commercial and aerospace & defense markets. Thomson Industries, Inc. has facilities in North America, Europe and Asia with over 2000 distributor locations around the world.



Thomson

1500 Mittel Boulevard

Wood Dale, IL 60191-1073

1-540-633-3549

1-540-633-0294 (fax)

Thomson@thomsonlinear.com

www.thomsonlinear.com



Company Contact:

Rob Gallagher

+1 630 694 3321



Please quote the following contact information when publishing:

Tel.: 540.633.3549

Fax: 540.633.0294

www.thomsonlinear.com  

Thomson@thomsonlinear.com