Motor Driver IC is automotive-qualified.
Press Release Summary: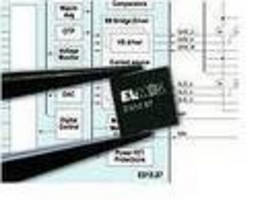 Enabling control of parameters via SPI interface, ASSP E910.87 EC motor driver is designed for automotive or industrial applications with voltages between 4-27 V. Gate driver IC for 6 NMOS FETs allows driver outputs to be controlled at up to 60 kHz. Integrated voltage regulator can power small microprocessors directly. Protective features include phase shortcut, gate shortcut, cross conduction, over/undervoltage protection, overtemperature warning, and more.
---
Original Press Release:

ELMOS Presents the Automotive-Qualified EC Motor Driver E910.87



Many protective features - can be completely configured via an SPI interface

Dortmund, Germany - With the ASSP E910.87, ELMOS presents an automotive-qualified EC motor driver. The IC can be adjusted to different applications due to many configuration options. The control of all parameters is enabled via an SPI interface. The IC also features manifold motor protective functions, e.g. overvoltage as well as over-/cross-current protection.

Possible applications include pumps, fans, steering, compressors, and many other automotive and industrial applications.

Samples of the IC and an evaluation board are available and be can requested through our website at elmos.de/englisch/products/order-samples

The integrated circuit is a gate driver IC for 6 NMOS FETs. The driver outputs can be controlled at up to 60 kHz. The E910.87 is developed for automotive or industrial applications with voltages between 4 and 27V. The EC motor is controlled via the power FETs of the 3 half-bridges.

The charge pump applied approves 100% PWM detection. For low-performance processors the interface to the IC can be switched to a special mode. Configuration options and the integrated free run comparators enable many control methods.

A window watchdog is integrated. An integrated voltage regulator can power small microprocessors directly.

The motor protective features include: phase shortcut, gate shortcut, cross conduction, overvoltage and undervoltage protection for Vbat, VS_SENS as well as undervoltage protection for high and low side driver supply, gate source voltage limitation of high side drivers, and over-temperature warning.

Via the SPI interface the following functions can be configured in a simple and flexible manner: amplifier factor of voltage limitation, overcurrent threshold, interface function, and error interrupts. Together with a low sleep-mode current (typ. 15µA), the IC is a high performance package for efficient motor control.

For more information, application notes and samples please send an e-mail to sales@elmos.de with the subject "E910.87", visit our website at www.elmos.de, or call: +49 231 7549 100.

Features:

Complete configuration via SPI interface

Supply voltage range 4V to 27V

Control of 3 external NMOS half-bridges (B6 Bridge)

Gate driver current up to 300mA

Cross current regulation / automatic death-time generation

Complete protection against shortcuts in the power part

Charge pump, 100% PWM possible

Integrated free run comparators with programmable interface

Adjustable differential input current measurement amplifier

PWM frequency of up to 60kHz

Protection against overvoltage and undervoltage, overcurrent and over-temperature

Temperature range: -40°C to +125°C

QFN 7x7 44Ld package

More from Software