Motion Sensing IC meets automotive safety requirements.
Press Release Summary: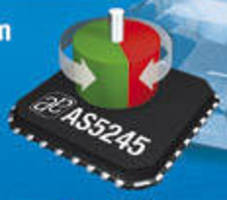 Operating from 3.3 or 5 V supply up to 150°C, dual die AS5245 targets safety-critical automotive applications such as pedals, transmission, and steering wheels. Fail-safe magnetic rotary encoder IC delivers on-chip diagnostics and phase matching capabilities. Digital angle data is provided as serial interface or PWM signal, and incremental quadrature output mode with interpolation algorithm can be enabled and permanently programmed with 10- or 12-bit resolution.
---
Original Press Release:

Austriamicrosystems' Presents AS5245, a Fully Redundant Motion Sensing IC for the Toughest Automotive Safety Requirements



The latest dual die, 12-bit magnetic rotary encoder targets challenging applications

Unterpremstaetten, Austria (October 28, 2009) - austriamicrosystems (SIX: AMS), a leading global designer and manufacturer of high performance analog ICs for automotive, communication, industry and medical applications, today expanded its extensive magnetic rotary encoder portfolio with the AS5245, a fail-safe magnetic rotary encoder IC specifically designed to address stringent automotive requirements like reliability, accuracy and safety.

"austriamicrosystems' new AS5245 is targeting safety critical automotive applications such as pedals, transmission and steering wheels where a failure can be lethal and is completely unacceptable", commented Andreas Pfingstl, Product Marketing Manager Automotive Encoders at austriamicrosystems. "The AS5245 motion sensing IC is based on austriamicrosystems' industry leading expertise in proven stacked-die technology. This technology fulfills the requirement of true redundancy in safety applications. AS5245 covers the trend towards more active safety with built-in redundancy and on-chip diagnostic features."

Based on austriamicrosystems´ stacked-die technology, the AS5245 provides best phase matching capabilities. No additional temperature compensation, calibration or shielding against external magnetic stray fields is needed.

Customers benefit from the most cost optimized solution for safety critical systems.

To give system designers more flexibility during evaluation, the digital angle data of the AS5245 is provided either as a simple serial interface or as a PWM signal. In addition, an incremental quadrature output mode with an improved interpolation algorithm can be enabled and permanently programmed with a resolution of 10 or 12 bit.

The standard features of austriamicrosystems' extensive encoder portfolio include user-specific zero programming, Chip-ID and diagnostic functions for the correct positioning of the magnet. An internal voltage regulator allows the AS5245 to operate at either 3.3 V or 5 V supply within a wide ambient temperature range of up to 150°C. The AS5245 is available in a lead-free QFN 32 package.

Product-specific information is available at www.austriamicrosystems.com/Magnetic-Encoders/AS5245

About austriamicrosystems

austriamicrosystems is a leading designer and manufacturer of high performance analog ICs, combining more than 27 years of analog design capabilities and system know-how with its own state-of-the-art manufacturing and test facilities. austriamicrosystems leverages its expertise in low power and high accuracy to provide industry-leading customized and standard analog products. Operating worldwide with more than 1,000 employees, austriamicrosystems focuses on the areas of power management, sensors & sensor interfaces and mobile infotainment in its markets Communications, Industry & Medical and Automotive, complemented by its Full Service Foundry activities. austriamicrosystems is listed on the SIX Swiss Exchange in Zurich (ticker symbol: AMS). For more information, please visit www.austriamicrosystems.com


Related