Motion Controller and Driver supports up to 3 axes of motion.
Press Release Summary: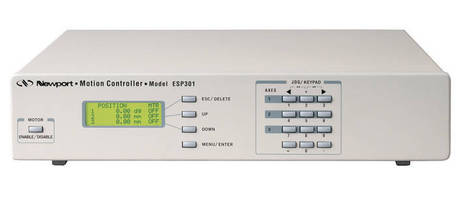 Featuring USB interface and front panel menu, Model ESP301 offers ESP stage auto-detection and auto-configuration. Unit operates via combination of DC or 2-phase stepper motors up to 3 A/axis and utilizes 64-bit, floating point DSP processor for synchronized control. With 1,000x programmable micro-step resolution, it includes various positioning modes and motion control features. Software limits can be set for safety and unit provides backlash and linear error compensation.
---
Original Press Release:

Newport Announces the New ESP310 Three-Axis Motion Controller and Driver



Irvine, CA - Oct. 27, 2008 - Newport Corporation, a worldwide leader in lasers and photonics solutions, today announced the ESP301 three axis motion controller and driver. The ESP301 is the successor of the popular ESP300 motion controller. Because it provides the same functionality as the ESP300 with a supplemental, standard USB interface and extended front panel functions, the ESP301 is an excellent solution for a wide range of motion applications.

Beda Espinoza, Product Line Manager for Newport's motion products stated, "We are very pleased to announce the ESP301 because we believe it offers significant benefits to our customers. It offers faster USB communication and a cleaner, more intuitive front panel menu. In addition, the ESP301 also offers the same industry-leading reliability as the ESP300 with better robustness. With an integrated manual front panel interface and Newport's proprietary, unique ESP stage auto-detection and auto-configuration, the ESP301 provides simple operation and excellent functionality at an affordable price."

The ESP301 can drive and control up to three axes of motion using any combination of DC or 2-phase stepper motors up to 3A per axis. It uses a 64-bit, floating point, DSP processor for high precision synchronized control. A digital PID-FF (feed-forward) servo loop ensures precise velocity profile tracking and accurate positioning. A 1000x programmable micro-step resolution provides ultra-smooth low-speed stepper positioning capability, and 18-bit DC motor command output ensures improved stability for precision applications.

The ESP301 provides several modes of positioning including synchronized and non-synchronized point-to-point, jogging, linear or circular interpolation, and continuous path contouring. With electronic gearing, any axis of the ESP301 can be "slaved" to any other axis, even if they have different motor/gear ratios or lead screw pitches. Other sophisticated motion features include on-the-fly position, velocity, or trajectory changes for complex motion and alignment routines. Software limits can be set to improve systems safety. An advanced origin search routine includes encoder index pulse consideration for precision homing. Backlash and linear error compensation eliminate repeatable system errors.

For more information on Newport's ESP301 motion controller and driver, please visit the company's website here.

About Newport Corporation

Newport Corporation is a leading global supplier of advanced-technology products and systems to customers in the scientific research, microelectronics manufacturing, aerospace and defense/security, life and health sciences and precision industrial manufacturing markets. Newport's innovative solutions leverage its expertise in high-power semiconductor, solid-state and ultrafast lasers, photonics instrumentation, sub-micron positioning systems, vibration isolation, optical subsystems and precision automation to enhance the capabilities and productivity of its customers' manufacturing, engineering and research applications. Newport is part of the Standard & Poor's SmallCap 600 Index and the Russell Microcap Index.

Company Contact:

Brian Bardwell

Sr. Manager of Corporate Communications

Tel: 949-253-1218

E-mail: brian.bardwell@newport.com